Updates from Citizens United to Protect the Maurice River and Its Tributaries, Inc.
Meeting July 9, 2008 – 6:30 p.m.
REGULARLY SCHEDULED TIME
(Our normal schedule is the second Wednesday of odd-numbered months) Millville Public Library, Gant Room
Presentation
By
Karen Williams
"Wildlife Habitat Landscaping"
Karen Williams has been a gardener and the proprietor of Flora for Fauna, a nursery that specializes in wildlife habitat landscaping, for over twenty years.
Karen will be discussing native plants and their faunal associations. She will share with us her experiences with cultivating native plants in a garden setting, and what adaptations native plants make to garden life. This is the perfect opportunity to learn how to attract wildlife to your backyard!
CU Update
Host the Scientists– Each year ornithologists and biologists come from around the globe to assist New Jerseyís Endangered and Nongame Species Program biologists in studying the migration of shorebirds and the spawning of horseshoe crabs.  Migratory shorebirds come to the shores of the Delaware Bay each spring, from as far south as the tip of South America, to feast on horseshoe crab eggs.  Annually, shorebirds fatten up on crab eggs deposited in the sands in order to complete the next leg of their journey to Arctic breeding grounds.  Some birds nearly double their weight before forging onward.  They arrive at the shores of Delaware Bay exhausted and depleted of all fat stored, and often have lost muscle as well.   Scientists monitor the population of a number of shorebird species as they pass through the Delaware Bayshore Region in order to assess the health and viability of each species.  Making weight is critical to successful reproduction while in the Arctic.
CU as well as other conservation organizations get involved in a variety of activities to help protect the shorebirds while they are visiting our region.  We play a unique role in these protection efforts by Hosting the Scientists. So during May and June our volunteers were stretched. We have now tallied that approximatley 50 volunteers worked around 350 hours, prepared about 650 meals and led a number of field trips.  If we had a count on left-over lunches, we probably served 1000 meals.  Our cooks included (in order of appearance) Sue and Dave Fenili; Jane, Peter and Ashley Galetto; Jennifer and Ron Swift; Chef John Betz; Becky Gilbert; Meaghan, Jessie and Delbay Briggs; LuAnn Daniels and friend Ron; Edie and Tom Thayer; Stan and Janis Traas, Donna, Rob and Ryan Dailey, Kitty Finn, Kathleen Vincents, Leslie and Tony Ficcaglia; Gordon and Elenor Engel; Carol and Jim Applegate; Diane Amico; Joanne Murphine;Vickie Shropshire; Bob and Kathy Michel; Frank Kammerer, Shoshana Osofsky, and Lana; Tony and Marcia Klock; Renee Brecht with Joseph and Kristen; Dot Slack; Barbara and Ben Nedohon; Mark Giberson; Mary Ann and Tim Russell; Donna Vertolli; Annemarie Van Hemmen; Grace Richter; Art and Kathy Parkin; and Lois and Rick Abbott.
Some highlights included a May 17 Thanksgiving Dinner for over 50, a salmon dinner for around 50 NJ Scientists and the Manomet Observatory
visitors, Frank Kammerer and Shoshanna Osofsky's Pig Roast for around 120-150, NJ and DE Shorebird Study Teams, birding and botany hikes, an owl prowl, and the Annual Wild Game Dinner.  May 24 was the Pig Roast – A BIG DAY. It started with a walk led byTony Klock, Kathy and Bob Michel, Gerry Moore, Dale Sweitzer Jane Galetto, and Renee Brecht.  That was followed by an afternoon of kayaking and canoeing and EATING – a 250 lb. pig- what pig? GONE.  Rob Huntley treated us to a number of songs while we dined.  Afterward our campfire was a burning success thanks to the musical talents of CU Ramblers – Renee Brecht, Greg Honachefsky, Tom McKee, Stan Traas, and Joe Scagnelli, who were joined by Jim Applegate, Bob Michel & Company, the Bayshore Discovery Projectís musical team and all in attendance for a circle of song. Also present were the international members of the various shorebird study teams and folks from other regions of our own country.  Home bases included Belize, Peru, Argentina, England, Canada, Australia, New Zealand, Chile, Mexico, Georgia, Massachusetts, NY and more. It would be remiss not to mention that a number of our members also assist in the data collection under the supervision of the shorebird team.  In particular Gordon, Ashley, Tom, Stan, Janis, Leslie, Rosalena, Tony, Barbara, Ben, Peter, Jane, Jennifer, Ron and others all helped out.
The shorebird scientists held a meeting prior to the Pig Roast to discuss various options for bird banding materials.  Prominent shorebird expert Clive Minton wrote us from Australia to relay that he felt the scientists were able to accomplish more in the field this year than ever before thanks to our volunteers' contributions to their stay.
Kudos to Assemblyman Fisher – On June 11th CU, the American Littorial Society, and Conserve Wildlife held a joint press conference to acknowledge the role Assemblyman Fisher has played in the adopted legislative moratorium on the harvest of horseshoe crabs.  This harvest moratorium is in place until the shorebird numbers have been restored to previous populations or sustainable numbers.
The Fish Hawks World Series of Birding Team made a respectable showing with a total of 143 species of birds – birding Cumberland County – in a 24 hour period.  Team Captain Diane Jones along with members Karen Johnson, Pam Higginbotham and Jane Galetto gave it a great effort.  Bromley Palamountain was a great sport, having volunteered to drive along with the team from midnight to late morning.  Brian Johnson and Tony Klock were our key scouts for the event.  The big news during scouting was that our team, specifically Karen, found a curlew sandpiper – a truly hot number.  The day of the event, the little devil took up in Cape May County out of our region. DRAT Oh, well.  A portion of the money raised will go toward the feeding of the shorebird scientists and the rest toward our regular programming.  Once our pledges are all in, we will give you a total of the dollars raised.  Kudos go to Pam Higginbotham of Atlanta, GA who has gotten many donations matched by Bank of America go, Pam!
Our spring campfire/new members' orientation was held on May 1st at the Galettos. A handful of new members turned out for the orientation before the campfire.  Seasoned members staggered their arrivals until we simply had a full house. Our star watching was curtailed by a cloudy evening but the campfire, food and song were very well received.  Special thanks to the CU Ramblers.
Members Donna Vertolli, Maryann Gibbons, Jane Morton Galetto and guest Sue Song were treated by Gerry Moore to a day at Brooklyn Botanic Garden and dinner in Brooklyn.  This was an auction item at our ìAh Why Knot Award Dinnerî- a true winner! It was delightful despite a couple of brief showers. All were extremely impressed by the variety of various gardens at the BBG.  At one point we saw Martha Stewart on tour with her entourage – good ole NYC.  But as Director of Science, Gerry was clearly the star of the show!  Thanks, Gerry.
On May 3rd our Birding Buckshutem NJ Division of Fish and Wildlife was trip with biologist Laurie Pettigrew was well-attended. Laurie and Karen and Brian Johnson were very helpful with their bird I.D. skills. A large variety was seen; of note were grasshopper sparrows and all of NJís blue colored bird,s i.e., indigo bunting, blue jay, blue bird, blue grosbeak.  We even had the opportunity to band a baby bluebird!  And had you attended you would have learned how to tell male and female turkey scat apart.
Osprey Banding is going very well. We still have a few more nests to visit and some to return to.  Thus far we have banded 50 chicks.  We have counted about 14 that were too young to band and have to visit at least three more platforms and return to band the smaller birds.  We have had many different assistants and expect to have a few more.  From the NJ Audubon shorebird study team we took out CÈsar Abrill C·cere of Per™ and David Tzul of Belize. They helped to untangle yet another chick that was wrapped in monofilament.  A week later, its useless talon had come around to be in seemingly working condition.  Greg, Marty and Heather Reiff joined in a Sunday afternoon of banding.  Beth Sanderling and son Gareth, and Karen Bowe and son Ethan of Woodland School Auction gang (we sometimes donate a banding to other non profit organizations) seemed to enjoy their day of banding and touring.  We still have a number of not-for-profit donation trips to fulfill.
Wheaton Arts' Eco-Fest was also held May 3rd. Kristen Scagnelli, JackieSandro-Greenwald and Daisey tended the table. Jackie also put together a recyclables craft that made for a very popular attraction. Our outdoor ìboothî has changedówe used our new banner for this event and it worked wonderfully. We also have added two microscopes to the table for added interest, donated by CU member Sue Fenili.
Our thanks to Fred Akers for leading the Annual Frog Slog. Adults and children alike enjoyed the May 16 event. The weather was slightly damp from the rain earlier in the day, but that did not dampen the spirits of our intrepid adventurers, nor did it seem to bother the frogs at all, who clamored away. We heard pine barrens tree frogs, northern gray tree frogs, peepers, and green frogs, to name a few.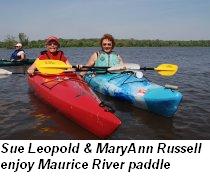 June 8th was our first 'Bring Your Own Boat' event of the year. We paddled the Maurice River and followed it with a barbeque at the Galettos'.  Over thirty people participated in this interpretative kayak trip /barbeque.  Once again the CU Ramblers made the evening a special success.
We had eleven members share CU booth time at Bay Days: Joanne Murphine, Mary Lou Barbose, Becky Gilbert, Stan Traas, Doug McMahon, Sue and John Leopold, Maryann Russell, Ed Pio, and Sue and Dave Fenili. Stan Traas, Jane Galetto, Ethan Aronoff, and Ron and Jennifer Swift proctored the Paint a Landscape activity. Jane, Stan, Kristen Scagnelli, and Anne Marie Van Hemmen assisted with riverboat interpretive tours, and Gerry Moore led a nature walk at the Lake Audrey site. Numerous individuals do double duty ñ they are volunteers for both the Bayshore Discovery Project and CU. In particular Tony and Marcia Klock, Glenn Honechefsky,  Roy Kaneshiki, Tom McKee, Kathy and Bob Michel, Jessie and Meghan Wren Briggs all made major contributions to the event.
The addition of the Lake Audrey shuttled site was of interest; there were retriever demonstrations, kayak demonstrations, and opportunities to try one's hand at archery and beebee guns.
As a board member of the Bayshore Discovery Project Jane wore a dual hat and helped with the Sponsorship Reception on Friday evening before the event.
CU intern Ryan Dailey had two momentous occasions recently: he graduated from Millville Senior High School as valedictorian and he earned his Eagle Scout.  Ryan was accepted at numerous prestigious universities. He presently plans to attend Yale.  He was active in a great many community functions.  At CU, he participated in the Bevin Skiff and osprey colony projects.  Ryan represented us at numerous public venues/festivals and he helped with our environmental education programs.
His parents Robert and Donna Dailey are very proud of his accomplishments and continue to be active participants in CU.  Congratulations!
This year's Jost Scholarship Awardee is Vladimir Kiyanchenko of Vineland HS. Vladís art portfolio showed very precise execution in his work. He enjoys sketching and sculpture. He spoke of drawing since the time he could hold a pencil.  Vlad relayed in his essay that other members of his family are also artistically inclined, noting, "My brother Drew inspired me to draw."  His art teacher, Janice Olivio, is impressed by his dedication to art: "Vlad is a very determined individual, showing much enthusiasm, and he sets forth every project like an adventure using his creative abilities.  He has shown in annual student art exhibits where he was honored with awards.  He also has taken interest by frequenting art museums." Congratulations, Vlad.
Jane and Renee attended a South Jersey Bayshore Coalition meeting at the old Brick House, aka "Eagle Manor", on May 16th. Conservation organizations have been investigating the feasibility of creating a center for Delaware Bayshore interpretation on this property.  Additionally, the Bayshore Coalition is sponsoring a Scenic Byways nomination to the NJ Department of Transportation and the US Department of Transportation.  Jane has been representing the Coalition at the meetings and has asked Cheryl Reardon to be the delegate to Salem Co. and that Lillian Armstrong be the delegate to Cape May County from the Coalition.  Kim Wood of the Department of Planning, Cumberland County has taken a sincere interest in the project and is reaching out to the municipalities for resolutions of support.  Jane has signed the application mapping the route from the Delaware Memorial Bridge to the Cape May Ferry.  The next step, should the application be accepted, will be for stakeholders to work on a management plan for the prescribed route.  It is envisioned that the route will interpret the natural and cultural aspects of the Bayshore Heritage Byway.
CU on the River!