Updates from Citizens United to Protect the Maurice River and Its Tributaries, Inc.
Meeting September 10, 2008 – 6:30 p.m.
REGULARLY SCHEDULED TIME
(Our normal schedule is the second Wednesday of odd-numbered months) Millville Public Library, Gant Room
Presentation
By
Sue Fenili
"Monarchs Create a Bridge from Millville to Mexico"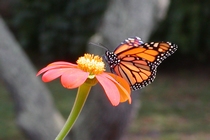 Sue Fenili, recently-retired third grade teacher at Silver Run School in Millville and CU board member, will be discussing her trip to Mexico. There she visited the Monarch butterfly overwintering site in the state of Michoacan, and learned plenty about the culture of the area as well. Join us as we visit both natural and cultural aspects of Mexico through the eyes of an educator.
CU Update
IMPORTANT CORPORATE BUSINESS New Bylaws — It is anticipated that the Officers and Trustees will be presenting new bylaws to the membership for their vote at the Annual Membership Meeting on November 12, 2008. You may view the proposed bylaws beforehand on our website, www.cumauriceriver.org, or at the reference desk of the Millville Public Library, or we can mail you a hard copy. We hope to have the final version available in mid-October. For more information you may call Jane Galetto at 856-327-1161.
September 20, 2008 Cumberland Pond BYOB Join Associate Director Renee at 9 a.m. for this Bring Your Own Boat paddling historical/natural history adventure in Peaslee WMA. We will first visit the remnants of Cumberland Furnace, which was built in 1785, and then kayak the pond and upstream toward the associated forge. For more information, or to register for this trip, contact Renee at 856-305-3238.
Volunteer Opportunities and Events:
RSVP! Space Limited Ah Why Knot This fun-raising event is soon approaching– October 25th, so invite your family and friends and plan to attend our annual steak and salmon dinner while giving accolades to you, our members, for all of your hard work and dedication to CU and our mission. As in previous years, there will be Red Knot Awards given in several categories to volunteers whose volunteerism efforts have been outstanding. There will also be a President's Award and a special surprise for several of our members. A donation of $50 is suggested. Contact Renee to make reservations or to volunteer to help with planning, shopping, set-up, cooking, beverage set-up, and break-down (856-305-3238). Typically, we have a short fundraiser at this event with five or six higher end items. If you are interested in donating an item, please contact Jane at 856-327-1161.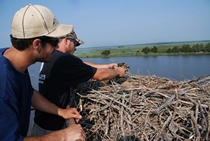 Osprey Nests Erection at Dorchester — Volunteers are needed to put up 2-3 osprey nests on Sunday, September 28. Two nests are planned for the Dorchester area and one nest for the Natural Lands Trust's Glades Preserve Newport/Fortescue area.
October 9, 2008 Fall Campfire 6:30-9:30 p.m. Tim and Maryann Russell's home on the Maurice River. Our theme will be Making a Living on the River.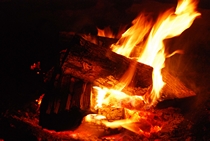 People who are familiar with or have made a living on the river will be the focus of this event. If you are a fisherman, railbird pusher, sandminer, farmer, boat builder or have another river-related occupation we would enjoy hearing about it. We'll supply the marshmallows & weenies. Bring your guitar or other instruments! REMEMBER your lawn chair, blankets and layers of warm clothing. Offers of dessert or salad are welcome. Directions to Russells: just west of the Laurel Lake bridge (in Millville) on Buckshutem Rd. turn on to Cedar Rd., park along end of Cedar Rd and walk to house at the end of the lane (look for CU event signs). Please RSVP so we have enough food – Renee at 856-305-3238.
Alliance Beach Clean-up– Volunteers Needed–Will be held on Saturday, October 18th (it will be possible for some individuals to work on Friday, October 17th specifically because some folks that had a great desire to help need to work on Saturdays). We need lots of hands to help out. Please call or email Jane Galetto to get involved at 609-774-5853.
CU Update
Botany website — Well, it is growing season, and our botany website has certainly been growing as well! Our plant profiles number around 250, and a long-term plan for the site is in process.
The Fish Hawks World Series of Birding Team–This was a successful event for us. Presently our total monies realized after expenses exceed $5,000. Some of our pledges have not been paid and we are awaiting some corporate matches.
A RECORD 74 Osprey Chicks Banded — Wow what a great year for osprey on the Maurice. The spring had some bad weather and we thought the number of young would be down. What a great surprise to have banded so many healthy birds.
Allen Jackson & Co. Band 8000 Purple Martins Allen Jackson's team
banded 8000 purple martin chicks before running out of bands. Last year CU purchased 6000 bands for the crew and they ran out. So this year to be certain there would be plenty of bands we purchased 8000- whoops! Our local martin landlords just simply outdo themselves in providing housing; many sites exceeded 100 birds! At one site in Mays Landing over 500 young were banded. An astounding forty percent of the purple martins banded in N. American will be banded by the CU/PMCA team. On July 15 we held a press conference to celebrate the 8000th chick. There was a wonderful attendance of CU members — thank you all for coming out to support this super program.
The National Park Service has made arrangements to have new decals placed on local signs identifying sections of the wild and scenic rivers. This was made possible from the grant that CU receives to implement aspects of the Wild and Scenic Rivers Management Plan. Thank you to Paul Kenney for taking care of these details.
CU was awarded a grant from the Environmental Endowment for New Jersey. The monies were used to purchased an Enviroscape model, as well as global position system units and topographical mapping programs for the Adopt a Swamp Pink program, and a number of other supplies – microscopes and slides to use at our festival table, seines for collecting samples in the rivers and marshes, and field guides to show participants how to use them for identifying birds, plants, fish and frogs.
We will hold a training session on Tuesday, September 23rd at the Millville Public Library in the Gant Room for members who are interested in learning to learn to use these new tools. If you would like to attend, please contact Renee.
As often is the case, Jane and Renee have attended a number of gatherings with more on the agenda: South Jersey Bayshore Coalition, National Heritage Area, Conserve Wildlife Open House at Cape May Bird Observatory, Endangered and Nongame Species Advisory Committee, Fish and Game Council and a Vineland land use meeting.
Elevate Program Members Sue and Dave Fenili, Sue and John Leopold, Irene Bird and Mary Ann and Tim Russell, assisted with this annual program of kayaking, helping with Paint a Landscape, and birding with the youth. It is enjoyable to watch the youth each year, and to see children who originally were unsure of their interest return in subsequent years eager to participate!
CU was represented at the Millville Summerfest, July 12th. The Fenilis, Laura Johnson, Becky Gilbert and John Betz, Doug McMahon, and Barbara Nedohon all volunteered on this warm summer day. Passers-by enjoyed our Paint a Landscape, as well as the new additions to our booth that were made possible by the EENJ grant the Enviroscape, a geological hydrology model, and microscopes.
Kayak Trip, Menantico Ponds On July 19 we were treated to a fun-filled BYOB kayak trip on Menantico Ponds, led by CU members and veteran kayakers Dave and Sue Fenili. A great time was had by all.
Citizens United hosts shorebird scientist logistics meeting. On July 24 members of the '08 Delaware Bayshore Bird Study Team met to debrief on the events of this past season's endeavors. Member Tom McKee was in attendance at the meeting. Millville provided a central location for Delaware and NJ scientists to exchange their ideas.
East Point Lighthouse Open House Our thanks to Kaye T. Waltman and Al Federici for proctoring the Paint a Landscape at this year's Open House!
Millville's Riverfest celebration introduced our new Enviroscape model that provides people with a 3 D visual representation of how nonpoint pollution enters our waterways.
Purple Martin — This year's Purple Martin migration was visible on August 15th and 16th. The kayak trips offered by NLT were fully booked, and the Bodacious, out of Fortescue, ran both evenings. Karen Johnson, CU and CMBO member, as well as volunteering as a docent herself, also organized the scheduling of other docents who volunteered, included David Lord, Sandra Keller, Janet Crawford, Kathy Michel, Chuck and Mary Jane Slugg, and Tony Klock.
QuickBooks — Our bookkeeper has made it possible for us to have a single license copy of QuickBooks so that we can more easily view her reports. This should prove to be a valuable tool for the organization.
First Data — The ability for our members to pay dues or make contributions via credit card will soon be a reality. Associate Director Renee Brecht has completed back-end training for the process, and our web site company, SMS, is currently implementing the data necessary for this enhancement to be available online to our members. We hope to have it up and fully functional within the next couple of weeks.
Citizens United has lost a friend – Bromley Palamountain
Bromley Palamountain was one of our most sincere members. Bromley and his wife Michele have a home in Philadelphia and at Laurel Lake. The members of the World Series of Birding Team will remember his vigor in joining us at his very YOUNG age of 81 at midnight to seek owls and rails during the wee hours. He hung in there right through the morning. Until reading his obituary none of us would have guessed his age correctly. He was deeply concerned about the future of our area and especially of the forest expanses. In fact, our presidentís first encounter with him was from his emails inquiring about the fate of the Holly Farm. He was first and foremost a true gentleman and will be sorely missed by all who met him.
Bromley was co-founder of Syntr Ltd., a global logistics software firm, in 1984 and he was senior VP at A.M. Best Co. 1966-1989. He had 7 children, 14 grandchildren, and two great grandchildren.
Our condolences are extended to Michele Palamountain and family on the passing of Bromley Palamountain.
CU on the River!