The Maurice River and three of its tributaries were designated as Wild and Scenic Rivers by the US Congress and President Clinton on December 1, 1993. The tributaries are the Manumuskin, Menantico and Muskee Rivers. In all, 35.4 miles are designated as "scenic" or "recreational." Outstanding natural and cultural resource values are critical to defining such waterways.
Thousands of years before European settlers, Native Americans used the resources of the river. The river's name is thought to be derived from the Prince Maurice, a 17th century Dutch ship reputed to have sunk in its waters. Cultural resources connect past and present in maritime uses and existing villages. Extensive oyster, agricultural, and sand enterprises typify the region. Sands supported a thriving glass industry.
Today, scientific glass is still an important industrial component of the local economy. From the 1700s until the 1940s, diked farms lined the banks of the tidal Maurice. (to learn more about diked farms explore this thesis on the Burcham Farm in Millville)
Some of the natural resource values include the Atlantic Flyway, pristine habitats that sustain rare species, and crucial food and resting areas for migratory birds, waterfowl, and fish. The Maurice River is also the second largest tributary of the Delaware Bayshore, an ecosystem of national and international importance.
Click here to learn more about Delaware Bay designations.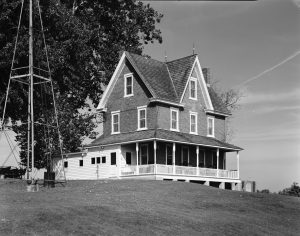 NJ's Fish and Game Endangered and Nongame Species Wildlife Action Plan has described the region as having "the highest concentration of rare and endangered wildlife in NJ, accompanied by the lowest density of urban development in the state. The Delaware Bay Landscape is a region of global importance and offers considerable opportunities for conservation." The large contiguous blocks of forest are what supports so many rare and sensitive species of wildlife; in fact over 50% of NJ's listed species can be found in the Maurice River drainage basin.
As a partnership Wild and Scenic River, the Maurice is managed by local communities' land use plans adopted in Memorandums of Understanding between the Department of the Interior and communities in the designated area – Millville, Vineland, Buena, Maurice River and Commercial Townships.
Explore the Comprehensive Management Plan and Environmental Impact Statement for the Maurice National Scenic and Recreational River, click here to view the document
Click here to view the original Wild and Scenic River Study Report 1993 (Note: you must scroll past blank pages)