Doreen Homan – Membership, Events, and Office Manager
Doreen joined Citizens United as the Membership, Events and Office Manager in April of 2014. However, Doreen had already been working for Citizens United for 28 years, mailing the newsletters and renewal letters and maintaining the membership list. Doreen and her husband, Carl, moved back to New Jersey in January of 2014. They had lived here in New Jersey until the summer of 2002 when they relocated to Virginia and then on to West Virginia. While in those states she worked for 5 different companies as a Bookkeeper, Office Manager, and Accounts Receivable Manager. In 1986, she had become the General Manager of Cumberland Technology Enterprise Center (CTEC), New Jersey's 1st Business Incubator with offices in both Millville and Vineland. While in that position, she was actively involved in the Vineland, Milllville, and Cape May County Chambers of Commerce and served as President of the Millville Chamber. She also managed a large Bulk Mail Center and worked for Xerox for 13 years in many different management positions.
Doreen grew up in West Virginia and graduated from West Virginia University with a BA in Secondary Education, with teaching fields of Biology, Physical Science, and Home Economics. She spent many hours on her grandparents' farms, helping with the gardens, and wandering through the woods and trails of the scenic areas where the family farms were located. She is glad to be back in Southern New Jersey where it is flat and the rivers, bays, and oceans are close by.
Karla Rossini – Program Manager
Karla joined the CU Maurice River team in 2015. She is responsible for the planning, organization, and management of programs and activities. She also develops and implements outreach initiatives. Often Karla is the initial point-of-contact that folks have with our organization.
Karla has lived half of her life in other countries and is a world traveler. She speaks three languages fluently: English, Spanish and German. She brings many important skills to the position. She is primarily an educator, having taught English to executives and English Literature to high school students in South America for 10 years. Her Bachelor of Arts degrees at Colorado State were in Political Science and German Literature, Culture & Language, while her master's studies involve human rights and equity.
Although she enjoys visiting new places, Karla has always had an affinity for South Jersey, where she attended high school and where her mother and grandparents have lived. Karla became familiar with the issues facing agricultural laborers while at South Jersey Family Medical Center, educating migrant farmworkers on healthy living and local medical services; she learned about the region's environmental resources while working as a naturalist for the Wetlands Institute. She resides in Millville with her husband Julián and their daughter Vera.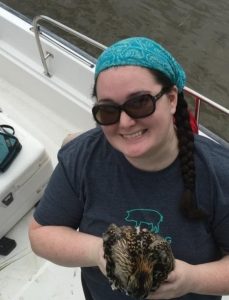 Meghan Thompson – Assistant Office Manager
Meghan joined the CU Maurice River team in 2018. In her position she tracks donor giving and activity, as well as providing many other administrative membership services. She is one of the first people with whom members interact when calling in or stopping by. She helps new members to become engaged with CU's mission and involved in volunteer opportunities by leading training sessions. Meghan facilitates outreach activities at community events. She is also involved in the coordination of fundraising initiatives and stewardship workshops. Her implementation of a new donor tracking system has greatly increased operational efficiency.
New to our area, Meghan is enchanted by the beauty of Down Jersey's farmland, local rivers, and green spaces. An amateur videographer, Meghan enjoys capturing local scenic vistas and wildlife on film. She looks forward to any chance she gets to be on the water or work with her partner Thomas on his family farm.
Meghan is originally from Wilmington, DE where she grew up horseback riding, fishing, and hiking in the Beaver Valley. When she lived in Delaware she was an active member in Save the Valley and Beaver Valley Conservancy, which are organizations dedicated to preserving hundreds of acres of woodland, farmland, and recreational areas. She majored in Animal and Food Sciences at the University of Delaware with a focus on self-sustainable farming practices. After graduating, she worked as a veterinary technician and veterinary hospital office