Updates from Citizens United to Protect the Maurice River and Its Tributaries, Inc.
Next Meeting: Next Meeting: Wednesday, January 14, 2015
Member meeting 6:30 pm, Presentation at 7:00 pm*
George Luciano Center, Cumberland County College
Speaker: Fran Rapa, Delaware Regional Manager
NJ Conservation Foundation
Preserving Farmland in NJ
Francis Rapa, Delaware Bay Regional Manager for the New Jersey Conservation Foundation, will discuss how the Foundation works with the USDA Natural Resource Conservation Service, Cumberland County, and other organizations to preserve farmland in South Jersey. Fran will explain how this work benefits landowners and communities and how it helps to protect water and natural resources.
Wednesday, March 11, 2015
Member meeting 6:30 pm, Presentation at 7:00 pm*
George Luciano Center, Cumberland County College
Speaker: Elizabeth Schuster
The Nature Conservancy
Leveraging economics to protect the rivers and lands
that sustain our communities
Nature provides economic benefits to people in many forms, such as through reducing flooding, improving water quality, and providing habitat for native pollinators that boost agricultural yields. Yet only recently have researchers begun to put a dollar value on these benefits. Understanding how to quantify the value of nature can help us scale up our watershed protection efforts. Further, by leveraging the benefits of nature and developing collaborations with non-traditional partners, we can access innovative funding sources for conservation and ultimately increase the level of investment in the diverse ecological systems surrounding the Maurice River and Delaware Bay.
Elizabeth Schuster joined The Nature Conservancy in 2013 as an environmental economist to bring expertise in economic valuation and assessment to their conservation work. Since joining the Conservancy, Elizabeth has supported their Marine and Freshwater programs in a variety of projects including quantifying the value of natural infrastructure for flood reduction and community economic development through nature-based tourism. Since 1998, she has been working in project design and implementation with a focus on natural resource management, sustainable agriculture, and water resources in the United States and in Latin America. She earned a Bachelor of Arts, Environmental Studies, from Oberlin College and a Master of Science in Agricultural and Resource Economics from the University of Arizona.
Up-Coming Events for Members and Friends
2015 Walk Schedule
Tony Klock will kick off this program on January 10th at 10 a.m. at Turkey Point.
Mary Watkins, Jane Morton Galetto and Sue Fenili will all be leading and/or co-leading other walks so be sure to check the calendar for dates and times. We will have some impromptu excursions when we hear of some Indian Summer winter days, so keep checking those email announcements.
Eagle Festival
February 7th – A Lovely Day
We anticipate that there will be five staffed viewing sites open throughout the day. Walks with NLT's Steve Eisenhauer and Brian Johnson begin at 10 a.m. and 1:30 p.m.; at 12 noon TNC staff will lead a walk at the Commercial Township Estuary Enhancement site, and at 5 p.m. the day finishes up with the traditional Owl Watch led by Mike Crewe of NJ Audubon and others.
The indoor portion of the festival is held at the Mauricetown Firehall. Planning is still underway and we expect that there will be a host of interesting presentations. Visitors will also have a chance to see displays, local art, and merchandise from many different organizations and vendors. Crab cake and fried oyster sandwiches, along with other goodies, will be on sale throughout the day. Tickets are $10 for adults and $5 for children 12 and under, paid at the door.
Volunteers are needed at the five outdoor viewing sites for 2-3 hour shifts, and indoors at our information table for similar periods of time. Please email Doreen if you would like to volunteer. Mike Crewe of NJ Audubon will be coordinating the outdoor stations, and we will pass your name and contact information along to him for scheduling.
10th Annual Chili Bowl
Saturday, March 7th
Rosary Hall
Saint Padre Pio Parish
Dante and Cornucopia Avenues,
East Vineland – 6 pm
The event committee decided that Rosary Hall was a great venue for the Annual Chili Bowl last year so they booked it for the upcoming event as well. In 2014 we had a sold-out crowd; this is the most popular funraising event on our calendar.
This time we will once again have great food, a big silent auction, an entertaining live auction including experiences, and of course music, all for $25 per person! We typically offer various types of music, and for 2015 we will be treated to Robert Huntley's more easy-going style during our hors d'oeuvres hour. Chilis will be prepared in the morning at Rosary Hall. Concurrently our setup crew will make the dining area ready for the big event.
Register early by emailing Suzanne Olah at 856-327-5118, and then pay for your tickets online, or mail your payment to CU Maurice River, PO Box 474, Millville, NJ 08332. PLEASE purchase your tickets in advance to avoid a line! The event usually sells out so there may not be tickets sold at the door.
Chefs are needed for chili, appetizers, cornbread, and brownies/cookies, as well as volunteers for kitchen and setup/cleanup help. Please donate auction items. Perhaps you are able to offer an experience-oriented excursion? Previously such offerings have included eagle and osprey banding, trips to botanic gardens, history and Pine Barrens plant tours and other biological and cultural outings. We would also love to have a timeshare item or vacation house opportunity. If you know of sponsors or would like to sponsor the event please let us know. To donate an auction item or a sponsorship, contact Jane at 856-327-1161 or email Jane.
RRCA Associate Show – Friday, March 20
CU Maurice River will be the sponsor of the Riverfront Renaissance Center for the Arts Associate Show on Friday, March 20. If you would like to volunteer to be an organization representative at this event please contact Doreen at 856-300-5331 or email Doreen.
Wild About Cumberland – March 24th & 25th
This year we will once again partner with the Bayshore Center at Bivalve, The Nature Conservancy, Woodford Cedar Run Wildlife Refuge and PSEG to get Cumberland County 4th graders into the great out-of-doors. Teachers, students and chaperones will be treated to a half-day outdoors on nearby trails with CU leaders and volunteers, and a half-day indoors at the Bivalve Center with sessions that emphasize "sense of place" and focus on local habitats and species.
CU volunteers are needed to help on the outdoor walks and perhaps at a couple of the indoor stations. Please email Celia Rodrigues or call her at 856-300-5331 if you are interested and willing!
Membership funds and sponsorship traditionally cover about a third of the costs of this event; we hope you will consider a year-end donation to this fantastic program.
Campfire and Potluck – April 25th
We'll kick off our first campfire/potluck, which will be held at the Burcham Farm at 6 p.m. We will send an email update closer to the event with more specifics.
On the Advocacy Front
We are continuing the struggle to maintain the 80 acres that were added to the Menantico Pond Wildlife Management Area instead of having them turned into developed space.
And on a wonderful note you may have seen our announcements that Question #2 passed in NJ and in Cumberland County, paving the way for a stable source of funding for Green Acres – farmland, historic and natural resource preservation. This is an over-the-top landmark victory and we thank our members who voted for this initiative. For many years CU has been a member and supporter of the Keep It Green effort. A special thanks to NJ Audubon and The Nature Conservancy for their leadership in this achievement!
Recent Events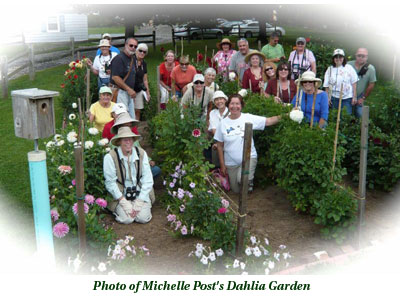 2nd Annual Cumberland County Garden Tour with Pat Sutton
Saturday, August 23rd
An enthusiastic sold-out crowd visited eight gardens carefully tended by Janet Crawford, Tony & Marsha Klock, Peter & Jane Galetto, Michelle Post, Irene Bird, Eric & Betsy Waltman, Barn Studio / Pat Witt, and the staff at the Peek Preserve. The weather was just perfect – not too hot and the rain held off until the garden tours were completed. Pat Witt was a joy to see, as always, and the children she had as guides for us were adorable. Michelle Post shared watermelons and other fresh vegetables from her garden. All the gardens were wonderful and everyone we visited seemed really happy to have us. Tony and Marcia shared cookies and drinks, then Tony joined us for the rest of the tour. At Galettos' some attendees joyfully gathered tomatoes. Our leader, Pat Sutton, shared a wealth of information in her usual enthusiastic style. She managed to keep a very full day on track and on schedule. Three avid newbies joined the CU ranks. All in all a terrific day!
Down Jersey Dinner Dance, Friday, September 5th at the Greenview Inn
The Event Committee arranged for a super night for all who attended; special thanks to Mary Ann Russell, Sue Leopold, Suzy Merighi, Ethan & Barbara Aronoff, Carl & Doreen Homan, Sue Fenili, and Sandy D'Onofrio. About 90 attendees danced the night away. The appetizers and dinner were tasty. "The Shakes Band" played an array of tunes.
Of special note: not wanting to miss out on the fun, Pat Witt in her wheeled chair had a turn at shaking a leg. In fact, she escaped the chair altogether. Our silent auction was well received and the event was a hit socially and financially. Thanks to everyone who came out and made the evening a success.
Walks
The monthly walks that meet at Waltman Park have continued with a variety of leaders and talents; a special thanks to our regular walkers for helping to welcome a diversity of people to our hikes. Leaders this season included Dee Shiell, Jane Morton Galetto, Tony Klock, Sue Fenili and Mary Watkins. The Park walks will resume in March. We may have a few impromptu walks if we get an Indian Summer weather report, so keep abreast of our weekly emails for short notice opportunities.
Mary, Sue, Jane and Tony will all be leading 2015 walks. Check the calendar for 2015's scheduled walks.
September 12th The New Office is visited by a USO Girl!
Our new digs formerly housed the USO during WWII, and Dave McCann thought it would be fun to visit the past in our present locale. Enter the one and only Pat Witt, CU member extraordinaire, Millville's Art Laureate and former USO Girl. We giggled as Pat told us a variety of fun tales regarding her wartime colleagues. She described the strict regime and relayed that seamed stockings were "a rule" and when gals ran out of hosiery they would draw a line up the back of their leg. She also told us that as a farm gal she had access to the precious rationed gasoline that the young fellows so craved. Pat explained about the black outs that occurred from the time the Army Airfield began until the end of the war. All car headlights were painted black leaving only a slit for a small amount of light.
Outdoor Artist Day September 13th
Center stage for this event was the Mauricetown Historical Society. Many local artists partook of the plein air activities throughout the town. There were a few sprinkles during the day, but the real rain held off till the end. CU Maurice River provided the CU Paint a Landscape Activity for this annual event in Mauricetown. Lots of folks took advantage of our easels and tried their hand at painting. A special thanks goes to those who kept everyone replenished with painting supplies and who were on hand to answer questions about CU Maurice River. Volunteers included Judy Nelson, Mike Golla, Kathleen Holsworth, Ferne Detwiler, Diann Shivers, Doreen Homan, Jane Morton Galetto, Tom Talalaj, Sharry and Marika Masarek.
The Grounds for Sculpture Trip on September 16th was completely booked. We were asked to keep our tour group to 20 and we might have been a tad over. We had the great fortune of being shown Seward Johnson's retrospective by Michelle Post, his long-time exhibit coordinator. Hundreds of sculptures came home to rest at the grounds. The indoor installations were assembled by Michelle for Seward's Beyond the Frame, a series which invites visitors to step into famous Impressionist paintings and become part of the scene.
Many people, ourselves included, had great fun poking in and out of these displays. The retrospective brought over 145,000 visitors to the grounds. We were delighted and grateful to Michelle for taking time from her workday to give us an insider's view of the exhibit.
Monarch Mania was held again this year on Saturday, September 27th. We had a total of 23 attendees at the event; the adults as well as the kids attending had an enjoyable outing. Louise Zemaitis, a member of the Monarch Monitoring Project and well-known nature artist, led the program. She provided interesting facts and some of our members also got to hold and release a monarch which had been tagged for tracking! Once again Bill and Edie Schuhl of Cape May hosted us at their beautiful home. They also shared milkweed pods from their butterfly garden, so we too could plant them in our yards to provide habitat for future generations of monarchs.
Osprey Work Party September 28th with 4H Families
We had a number of 4H members and their families as well as our members come out to construct two osprey platforms and then place them in the marsh. CU leaders for the event were Peter & Jane Galetto, Charlie Cantoni, Jill Mortensen, Stephen Freed, Dan Devine, Jim House, Tyler Tomassone and Nicole Kirkos. The 4H crew was led by Valerie and Terry Hider. In all, 24 folks participated. One nest was placed to lure a pair of osprey off of the roof of a shack, and the other was placed in hopes of discouraging the use of a crane at Allen's Steel. The crane will prove a challenge in that they simply love that extra height. But if Allen's can discourage them in the early spring it might just work; fingers crossed.
Allen Jackson, CU's Top Biologist, Supervises Habitat Project at Wheaton Arts on October 9th
A dozen volunteers joined Allen Jackson to plant the beginnings of a nature path at Wheaton Arts. A special thanks to Dee Shiell, Judy Nelson, Mike Golla, Lynda Gilbert, Peggy Peters, Lucas Carl, Byron Robbins, Amy Menzel, Katherine Holsworth, Shane Godshall of ALS and Hank Adams of Wheaton Arts.
A Big Day of River Fun October 18th proved to be wonderful weather for enjoying the fall foliage. Early morning was calm and every tree was reflected in the river. Simultaneously, two different groups were hiking or paddling. Dee Shiell had out a group of 16 on the river walk where folks viewed bluebirds, great blue herons, eagles and lots of cool plants while enjoying the fall colors. This was one of Dee's last hikes, and everyone spoke about how much they will miss her, as she is off to the state of Washington to live near her daughter.
A paddle to and tour of the Burcham Farm was well-attended. Twenty folks enjoyed the visit. Learning about the last diked farm in the State and the local culture of diked meadows proved interesting to everyone in attendance. Rocky Lacivita joined us and was able to tell us about maintaining the dike and about storm events like Sandy during which the farmhouse was nearly an island. It took the farm a week to dewater after the hurricane.
Our campfires remain very popular; we had 35 attendees and a wonderful array of good food. The evening had just enough chill to make the fire feel good, and yet no frost for the pumpkins – perfect. The sing-along was made especially enjoyable by Tom McKee, Walt Birbeck, Greg Honachefsky, Carl Homan and Michelle Post. A special thank you to the MANY who set up and cleaned up. We took some time to present both Dee and Judy Nelson with their Presidential Volunteer Awards and certificates since they will not be in attendance at the November Annual Meeting. Judy is also moving west to Iowa. Judy and Dee were our top awardees, gathering over 300 hours between them. We hope that we will get a number of new volunteers to help fill the void that their absence will create. We are forever grateful for the contributions they have made to CUMaurice River.
Presentation Upstairs at Winfield's – October 29th
Over 50 people attended the Animal Magnetism presentation about animal courtship by Jane Morton Galetto. It was a combination of interesting facts and wacky humor for a great night of fun and food. We would like to thank folks for their enthusiasm for the Upstairs at Winfield's events.
Program Manager Hired
After a lengthy search we are happy to announce the addition of Celia Rodrigues as our new Program Manager. She is a recent graduate of Stockton State College's Environmental Science Department. During her undergraduate years she worked on Save Barnegat Bay, archived maps at the Ocean Co. Soil Conservation District, and assisted the DEP in collecting soil and leaf samples, measuring evapotranspiration and biomass. She also has done water quality monitoring for the Jacques Cousteau Coastal Education Center, coordinated a Barnegat Bay Blitz clean-up, and was an officer in the Ocean County College Environmental Club. Before starting at CU she was involved in the cross pollination of blueberry species.
Celia can be reached at our office phone 856-300-5331 or by emailing Celia.Rodrigues@cumauriceriver.org.
Annual Meeting
Volunteer Awards – November 12th
This year we recognized our U S Presidential Volunteer Award winners at our Annual Meeting. Before giving those kudos permit us to say that Allen Jackson, Jane Morton Galetto and Bill Sheridan have all surpassed the number of hours required in the program. In the case of Bill his hours all together elude us: in other words what he reports is far less than what he actually does. That being said Dee Shiell was our top awardee, earning 250 hours. We are sad to say that, as noted above, this was her swan song since she just gone to WA. Judy Nelson also earned over 100 hours and she is relocating to Iowa. Jane commented that this was the first time she recalled top volunteers actually moving to avoid another year of hard labor. Kidding aside, we are impressed by the number of folks who logged 100 or more hours; they are Mary Ann Russell, Sue and Dave Fenili, Suzanne Olah, Leslie Ficcaglia, Tony Klock, Bill Sheridan, Mary Watkins, Irene Bird, Mike Golla, and Sue Leopold. At the meeting Doreen presented awards from the dias to the cheers of our very enthusiastic attendees. Well done!
Election Results – November 12th
We are happy to report that the officers as of the annual meeting of the membership are as follows:
Susan Olah, Treasurer
Irene Bird, Assistant Treasurer
Karen Johnson, Corresponding Secretary
Laurie Pettigrew, Recording Secretary
Ethan Aronoff
Sue Fenili
Richard Jones
Anthony Klock
Sue Leopold
Mary Ann Russell
Mary Watkins
Mary Ann Westerfield
Annual Message From Jane Morton Galetto, Board President
Each year, I take this time to reflect and be grateful for that which Citizens United to Protect the Maurice River and Its Tributaries, Inc. does for the community. And I believe each year our capacity to do good increases. This year we added an office to our organization which has given a focal point to our administrative activities. Presently Doreen Homan has been handling Membership, Events and Office Management, and we just hired Celia Rodrigues, an Environmental Science major from Stockton, as our Program Manager. Together we are planning what we think will be a super 2015 for our members. We have lots of challenges on the conservation front and are tackling these with determination. Of note is that Question #2 passed on the ballot giving NJ a stable source of funding for the preservation of natural, historic and farmland resources. This is an historic milestone in NJ that we hope to see have meaningful impacts on our region.
Thank you and Happy Holidays,
Jane Morton Galetto
Board President
CU on the River!
And thanks to all those who give the equally important gift of your time.
We couldn't do all this without you!
CU on the River!