Updates from Citizens United to Protect the Maurice River and Its Tributaries, Inc.
Wednesday, July 12, 2017
Meeting 6:30 pm
Presentation at 7:15 pm
George Luciano Center, Cumberland County College
Cumberland County's Clean Community Initiative
by Anthony Rivera
Cumberland County Improvement Authority
Cumberland County Improvement Authority's Director of Recycling & Enforcement and Clean Communities County Coordinator Anthony "Tony" Riviera will present on his local and statewide experience in organizing cleanups that include the International Coastal Cleanup and the Annual Trash Hunt and Clean Waterways Cleanup, all events at which CU members volunteer. Tony will shed light on the collective successes of the local Clean Communities initiative and highlight ways in which households can lessen any negative impact on watershed health.
September 13, 2017
Lost Villages
By Meghan Wren
Bayshore Center in Bivalve
People from the Delaware Bayshore villages, much like barrier island residents, don't debate climate change but rather they live it. Flooding tides are getting higher and more frequent and coastal storms are ever more destructive. Islanders also live surrounded by amazing natural resources and landscapes, including many of NJ's most cherished species. Meghan Wren, Founding Director of the Bayshore Center at Bivalve, recent Ah Why Knot Award Recipient, advocate for the Bayshore and its people, and the woman who swam across the Bay, will be presenting on Bayshore villages' issues and responses to sea level rise.
As a resident of Money Island and leader in developing Cumberland County's Bayshore Plan, Meghan speaks from a wealth of personal experience adapting to rising tides. Join us to learn how communities are responding to rising waters and how they are affecting homeowners, traditional economic pursuits, and environs. Meghan will also address the Bayshore villages' issues as a microcosm of the country's larger ones, including options for the future of coastal communities, the importance of resource based tourism, and discussions on when to retreat and when to enlist measures of sustainability.
UPCOMING EVENTS FOR MEMBERS, FAMILIES, AND FRIENDS
SOCIALS AND PRESENTATIONS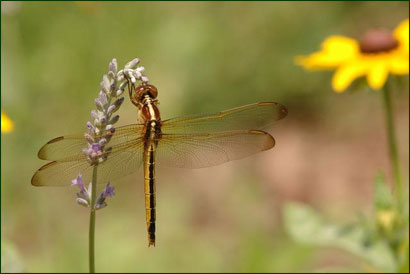 CU Social – "Dragonfly Primer," a program by Pat Sutton at Winfield's on Thursday, July 27th at 6:30 pm. This introduction to dragonflies (& damselflies) will cover the most common species found here in South Jersey, their natural history (life cycle, seasonality, what they prey on, and who preys on them), and how to identify one from another. Learn how to attract these ferocious mosquito predators by creating a dragonfly pond right in your own yard.
To be held at Winfield's Restaurant 106 N High Street, Millville, NJ. this presentation begins at 6:30 p.m. Please consider dining before the event at 5 p.m. or after at 8 p.m. Reservations are generally necessary; let them know you will be attending the presentation upstairs at 6:30 p.m. Beverages may be ordered during the talk.
CU Program Manager Karla Rossini will give a presentation on the Wild and Scenic Maurice River at the Clean Communities meeting on Friday, June 23rd at WheatonArts.
Thank you to our sponsors.
WALKS
Outdoor Explorers at Waltman Park – Led by Wendy Walker, Christine Brown, and/or Karla along the Maurice River Bicycle and Walking Trail. Meet at the CU Maurice River office at 10:15 a.m. and then join the Holly City Family Success Center's members at their office and depart to explore the natural and cultural resources on this urban trail. Upcoming dates are June 21, July 26, September 27, and October 25. Use our new park check-lists for each of the walks and let's see how many critters we can spot!
Tuesdays on the Fly – Meet at Waltman Park off Brandriff Ave. at 9 a.m. where we carpool to other great natural and cultural areas.
June 28 WEDNESDAY– WHOOPS! MAKE THIS A "WEDNESDAY" ON THE FLY: Mt. Cuba Center is not open to the public on Tuesdays. Located in Hockessin, DE just outside of Wilmington, this facility is known for its native plant gardens. We will meet at Brandriff at 9 a.m. and carpool to Mt. Cuba. Our two-hour tour will begin at 11 a.m. and end at 1 p.m.; afterward we can eat lunch on the grounds. Please pack a picnic lunch. RSVP is REQUIRED. Cost is $12 per person.
July 18 Tuesday – Shore Adventure: the plan is to have an all-day excursion ending in Cape May. Read upcoming emails for further details.
September 19 Tuesday – Explore Waltman Park where the September flora are usually a real treat!
CU Saturdays 
July 15th 9:00am to 12:00pm – CU Maurice River is hosting an approximately 3K Community Walk on the Maurice River Bicycle & Walking Trail. There will be naturalists and other docents stationed along the path to interpret the wonderful environmental, historical, and cultural points of interest for the visitors. We will be handing out CUMR's free, park-specific brochure, wildlife lists, and our scavenger hunt sheet to the public.
September 16th – National Waterways Clean-Up: meet at the CU Maurice River office at 9 a.m. and participate in a nationwide clean-up. As we get closer to the date, Cumberland County Improvement Authority will let us know which natural site needs extra attention. Be on the lookout for more information.
GARDEN TOURS/CRUISES/and PADDLES
Saturday, June 24th – South Jersey Garden Tour
Join Tony Klock and Karla Rossini for a special Cumberland County Garden Tour. Starting at 9 a.m. we will carpool to different native and wildlife gardens in the Maurice River Watershed. The tour will conclude at Triple Oaks Nursery, where Lorraine Kiefer will meet us with some native plant desserts and refreshments and then walk us through her gardens. Afterwards you can use the opportunity to look around Lorraine's nursery and purchase native plants to bring home. Tour is limited to 25 per tour group. $20 for members and $30 for nonmembers.
Paddle and Pot Luck, Summer on the Manumuskin River! On July 8th at 9:30 a.m. we paddle the Manumuskin River; later that same day, at 6:00 p.m., we will hold a potluck campfire on the shores of the Manumuskin River at the Tomlin home. RSVP required.
Saturday, August 12th Garden Tour by Pat Sutton
Take one of two special tours of Pat Sutton's private garden in Goshen, NJ. Sign up for one of two times: 9:30 a.m. until noon or 2:00 p.m. to 4:30 p.m. Tour is limited to 20 per group. $20 for members and $30 for nonmembers. This tour fills up very early. Money is non-refundable. If you must cancel please be kind to others who will surely be on the waiting list, and let us know that you won't be coming.
Purple Martin Spectacular Cruises
This is the 16th year that we have worked with Maurice River Township to help folks witness the Purple Martin Spectacular. Make your reservations now! The trips are already 1/3 booked and we haven't even advertised yet. Boats will go out on the evenings of August 10, 11, 12 and 17, 18, 20. Join fellow bird enthusiasts aboard the Bonanza II at 6:30 p.m. as we search for southbound migrating purple martins. Allen Jackson and/or CU representatives will be on hand to share information and answer questions. Reservations are $40 which includes fruits, pastries, and soft drinks on board. Boats depart from the Bayshore Center in Bivalve.
Lighthouse Cruises
We will hold two Historic Lighthouse Cruises on the Delaware Bay aboard the Bonanza II on September 23 & 24. Five lighthouses will be on the tour: Brandywine Shoal, Fourteen Foot Bank, Miah Maull Shoal, Elbow, and Cross Ledge Lighthouses. Departure is from the Fortescue Dock #5 and the trip will be from 4 p.m. – 7 p.m. Return should be just in time to catch the best part of the sunset from the Fortescue beach front. Snacks of fruit, nuts, veggie dip, desserts, and soft drinks will be available. Each trip is limited to 50 people so make your reservations ASAP.
For these cruises please contact Doreen and specify which cruise and which date.
FALL FUNDRAISER – MARK YOUR CALENDARS AND RESERVE
Our Fall Fundraiser takes place at La Bottega Art Gallery and Winfield's Restaurant on Monday, September 11th. This event is held every other year so don't miss out. Begin your evening at 6:00 at La Bottega, 508 High St., and then stroll to Winfield's for a 7p.m. buffet dinner. Cost is $150 per person. Seating is limited; tables accommodate 4-6 people. RSVP to Doreen if you are interested, or call 856-300-5331.
Ecuador Trip with Victor Emanual Tours

ONLY THREE SPOTS LEFT! Come with us to Ecuador!
We have a number of folks signed up to go to Ecuador this November, beginning on the 11th and ending on the 19th. Some people are even doing the pre-trip called Tinalandia on 7th -12th. We will explore the Northwestern Andean Slopes. If you are interested please contact VENT immediately – (800) 328-8368, and tell them that you're with CU.
UPCOMING HABITAT HAPPENINGS
This May we counted upwards of 111 osprey eggs, and near the end of June we will begin to band chicks. Purple martins and bluebirds have been adversely affected by a rainy spring. Bluebirds have more than one clutch per season so we are hopeful that the weather improves and subsequent breeding cycles will be successful. One hundred new bluebird boxes have been added to the southern NJ trails.
Our volunteers put up purple martin gourd racks last year at WheatonArts and we are happy to report that the gourds have residents! In fact on June 10th Allen Jackson, CU Director of Wildlife Management, reported that 7 gourds had 30 eggs; in Allen's words, "An awesome first year!"
We are continually putting together work parties as the need arises. If you are interested in trail work, nest box installation, sign erection, tree planting, and the like please email Doreen as she is keeping track of folks who wish to be involved in work parties. Email Doreen or call 856-300-5331.
VOLUNTEER OPPORTUNITIES
The CU Program Connect with Nature will resume at the YMCA Camp Merrywood this summer beginning June 20 and running until August 20. Volunteers are primarily teachers or naturalists. We will be offering activities on Tuesdays and Thursdays; lessons last 1 ½ hours and most begin at about 10:30. Some of the activities that CU volunteers have taught include yoga, African mud cloth painting on canvas bags, leaf rubbings and ID, paint-a-landscape, how to use binoculars, bird identification, fishy fabric wind socks, identification of animal tracks, biodiversity, weaving, block printing, etc., Anything involving the out-of-doors would be wonderful. Sue Fenili coordinates the CU part of the camp schedule; for details please email Sue or call 856-691-7459.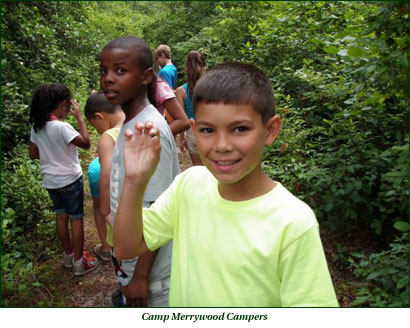 Two events will be in need of CU Maurice River Ambassadors. The first is the Pledge to Fledge at Cape May Point State Park. happening on August 11th from 3 p.m.- 6 p.m. The primary responsibility will be the CU Paint-A-Landscape activity. The other event is the ever-popular Outdoor Artists' Day at the Mauricetown Historical Society in Mauricetown, NJ, to be held September 9th (likely 9:30-3:30). This informal event has easy listening music by local musicians, a food vendor, and the most wonderful sweets by Historical Society members. Generally we have a group mural and/or Paint-a- Landscape activity on that day. For either of these events contact Doreen or call 856-300-5331.
RECENT HABITAT HAPPENINGS
Major Tree Planting
The tree plantings of April 1st were a great success and they occurred on numerous fronts. At WheatonArts Nature Trail Allen Jackson led a group of eight volunteers who put in 180 trees. On the Guidance Center's Serenity Trail Gary Moellers, Jay Eisenhauer, and Jane Morton Galetto led a group of eight Boy Scouts and two Scout leaders in planting 120 trees along the trail. Approximately 250 saplings were distributed to 35 watershed stewards including residents, non-profits, schools, and businesses. The species were dogwood, arrowwood, buttonbush, red cedar and redbud.
Neighborhood & Wildlife Serenity Garden in Downtown Millville – Karla has been meeting with City of Millville officials and Commissioner Sooy about an appropriate site for the community wildlife garden. We will need lots of volunteers in order to get the site in shape. Originally we had planned on a spring schedule. Instead, this summer we will prepare the beds and probably plant in the fall. In the spring of 2018 we hope to do further plantings.
WheatonArts and Wildlife Trail – We had trail workdays on March 15 and April 25th in preparation for the Eco Fair on May 6th. On the 15th we primarily put down gravel for a trail spur to the pond sign, and completed some stone on the loop. On April 25th we trimmed, removed invasive species, and cleaned up lots of trash. A special thanks to the many volunteers who continue to help with the improvements on this trail.
If you'd like to get involved in habitat projects please contact the office. Doreen is keeping track of volunteer names for the crew leaders.
RECENT EVENTS AND HAPPENINGS
RRCA – On March 17th CU Maurice River hosted the Associate Artists' Show and a local school youth exhibit at the Riverfront Renaissance Center for the Arts. The show was very well-attended, and we had six CU Ambassadors who enjoyed meeting and greeting folks.
Clean-up took place on March 18th along the Maurice River Bicycle and Walking Trail. There was significantly less trash than we have found on previous clean-ups. So, first, a thank-you to the City and the people who help to keep it tidy when they walk. And a big thanks to the eighteen CU volunteers who came out on the 18th.
Wild About Cumberland – This was held on March 21st and 22nd.Teachers, students, and chaperones were treated to a half-day outdoors on nearby trails with CU leaders and volunteers, and a half-day indoors at the Bivalve Center with sessions that emphasized "sense of place" and focused on local habitats and species.
CU Maurice River is the lead organization in this complex endeavor. A special thanks goes to OceanFirst Bank for being the main sponsor of this year's event. Furthermore, Bayshore Center at Bivalve did a great job of coordinating the inside activities. The Nature Conservancy prepared the trails and Woodford Cedar Run Wildlife Refuge was hired to provide their live avian exhibit. Also we thank PSEG for the use of the Commercial Township Restoration Site. Our naturalists were out in full force; some 25 professionals guided some 300 children each day for this annual out-of-door experience.
Thank you!
ADDITIONAL RECENT NEWS ITEMS
Earth Day was held at Cumberland County College on April 19th. Eight Ambassadors represented CU at the event and 30 folks signed up for more information. We are continually striving to get the future generations on board.
On April 27 Julie Akers and Lynn Maun of the Great Egg Harbor Watershed Association teamed up to present Exploring the Insect Life Found in Our Backyards at one of our Winfield's Socials. They discussed the importance of bugs as pollinators and decomposers.
ANOTHER BIG DAY – EARTH DAY APRIL 22nd – We had an excellent paddle of 10 folks who braved raindrops and were well-rewarded; the Menantico simply doesn't disappoint. Later we joined a dozen new members for an orientation at the Russells' house, followed by a campfire and potluck of 40. Even though the dreary weather persisted we had a great time. Tim Russell outdid even himself in making a lovely fire, which we were able to enjoy when the rain subsided.
Hosting the International Shorebird Recovery Team in May – WOW. This year we once again fed our visitors so they could fatten up as much as the migrating birds. I'm sad to report the visitors made out better than the birds in that many birds had low weights leaving for the Arctic. This year we provided dinners for 35-40 some folks each night. Including the Ah Why Knot event, we prepared over 1000 meals. At least 50 different people participated in their preparation. And for the Ah Why Knot at least 43 folks prepared side dishes. Hats off to the kindness of many volunteers.
reTurn the Favor – A large number of volunteers have devoted many hours to flipping and /or freeing trapped horseshoe crabs (hsc). CU Maurice River Program Manager Karla Rossini has been coordinating the CU Maurice River effort. We had 20+ new volunteers this year for a total force of 40+ volunteers with official permits, working at East Point Lighthouse beaches specifically. This number does not include the many volunteers we have working at other Bayshore beaches. By May 31st, 52,778 crabs had been rescued throughout the littoral region. As of the writing of this newsletter the rescuing of horseshoe crabs continues. There were numerous strandings in the back-bay marshes as the result of the high winds and super tides that occurred around the 26th of May. This elevated activities to emergency levels. On Memorial Day weekend alone 34,648 crabs were rescued, with 16,958 of those stranded due to the high tides. Volunteers did yeomans' work to rescue thousands of crabs all weekend. And there is still more data to be submitted. At least 268 people have participated thus far!!
WHEATONARTS ECO FAIR 
AND OPENING OF THE NATURE TRAIL
WheatonArts Eco Fair – Leading up to the WheatonArts Eco Fair, many members read Joanna Burger's book, 25 Nature Spectacles of New Jersey. On May 2nd Suzy Merighi led a Reading Circle at Andrea's Trattoria in which participants discussed aspects of natural events that they enjoyed reading about and had either witnessed or hoped to see.
CU Maurice River sponsored Joanna Burger as the keynote speaker at the ensuing Eco Fair on May 6th. Throughout Joanna's presentation her fascination with the natural phenomena of NJ was evident. Many people had books signed before and after her talk.
The show was further framed by the inauguration of the WheatonArts Nature Trail and its wayside exhibits, for which the path and the habitat management were provided by CU members. Our naturalists offered guided walks throughout the day and built a real enthusiasm for the new trail. The CU Ambassadors were on hand to encourage participation in our organization and to enjoy their usual camaraderie.
WORLD SERIES OF BIRDING, MAY 6th
This year's team consisted of Captain Mary Watkins, Tony Klock, Clay Sutton, and Karen Williams. Weather was not in their favor but they did a splendid job as nighttime turned into day, accumulating 136 different species of birds by the day's end. Their tally was actually competitive against statewide teams, even though our team restricts their search to the Delaware Bayshore in Cumberland and Cape May Counties. Why? In order to demonstrate the diversity of species that can be seen in a day of birding in our region. Folks got Jane's pesky emails challenging everyone to come on board so that we could reach a $10,000 goal. We made it, so thank you ever so much for participating! And if you didn't participate you can still send in a donation. Jane says, "The proceeds go to our wildlife-oriented projects. In the end we netted $8,000, but it is never too late to be a hero – I'm just saying."
ANNUAL FROG SLOG
The Annual Frog Slog was led by Fred Akers and Karla Rossini on May 12th, much to the excitement of adults and children alike. There is nothing like a frog to bring out the child in everyone; go figure. Equipped with flashlights and boots, the participants continued to be entranced by the annual search and the discovery of a frog's world.
THE 12TH ANNUAL AH WHY KNOT AWARDS AND PIG ROAST – MAY 20TH
About 150 people enjoyed this year's celebration and awards. The band, Package Goods and the food were great, with approximately 43 people bringing accompaniments and desserts. A special thanks to Mark D'Onofrio of Stanker and Galetto for providing the pig and its delivery. Featured were oysters on the half shell, curly fries à la Applegate, whole roasted pig, and naturally the variety of side dishes made by CU members.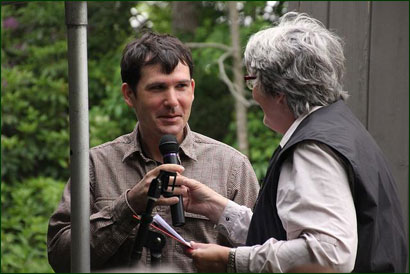 We provided lots of details on our Ah Why Knot Awardees in an eight-page email. So here forgive us for abbreviating. Instead we will expand on our Presidential Award Winners since they have traditionally been a closely held secret prior to the event. Rob Dube and Scott Fenili were singled out primarily for their love of nature and WORK and for their willingness to pitch in wherever needed. They are continually giving of their skills.
Caitlin Mazowski was awarded not only for event participation but also for creating our outreach program to an assisted living facility. Caitlin has a warm spot for folks as they reach the not-always-so-golden years. She works with them using nature as a vehicle for keeping them active.
Susan Godfrey "Suzy or Aunt Dude" was recognized for her participation in children's activities and for photo-chronicling so many of our events. This is a very time-consuming task and we are grateful for her assistance. Recently the National Park Service asked to use some of her photos from the Elevate Program in their own publications.
Long-time sister organization leader Meghan Wren, Founding Director of the Bayshore Center at Bivalve, was awarded for her vision in creating the BCB and for her leadership in the many programs that CU and BCB provide to the community.
The Shorebird Team also had Ah Why Knots awardees. They recognized Steve Gates, who has volunteered since 1997, participating in trapping and in numerous research investigations. He has made significant contributions of his time to many other shorebird projects, notably the determination of wintering areas, based on isotope signatures in their feathers. The Shorebird Team also presented an award to our keynote speaker for the Eco Fair, Joanna Burger. Author of over 200 publications and eight books, she was among the first to recognize the importance of the Delaware Bay shorebird stopover, directing the first flyover in 1981. She has conducted studies not only on shorebirds but also on an extensive variety of avian species and wildlife worldwide.
This year we gave the second Annual Sanderling Award, presented to someone 18 years old or younger who has devoted time to CU, to Madelin "Maddie" Hornblower. She has been participating for three years in CU Maurice River activities and has been an excellent role model to other young people.

The Presidential Awards
This year's Presidential Awards will come as no surprise to our members who participate in any of our interpretative walks: the winners are Mary Watkins and Tony Klock. They have been sharing their knowledge and their professional teaching skills in nature exploration for many years. Steadfast members of the Fish Hawks, they also faithfully participate on the Board of Trustees. Mary and Tony help out in many capacities in CU events, functions, and in all facets of our work. Congratulations to all our awardees!
The A.J. Meerwald's Memorial Day Birding Sail on May 29th was a success in spite of the chilly and rainy weather. With the help of Kathy Michel and Tony Klock the guests spotted 57 different species of birds – a fantastic count even in good conditions!
Barn Day took place on June 4. The easels for Paint-A-Landscape stayed continually busy and even had a queue forming at times. Eventually some 80 artworks were painted. Nine Ambassadors worked throughout the day. An estimated 250 people attended the event.
PAST TUESDAYS ON THE FLY / CU SATURDAYS 
AND OTHER WALKS
On March 18th we combined a walk at Waltman Park with the County Trash Hunt. On April 8th seventeen members explored Belleplain looking for spring migrants. May 20th was a day of many festivities leading up to the Ah Why Knot Awards and Pig Roast. CU Fish Hawks Tony Klock, Mary Watkins, and Kathy Michel led a Hansey Creek walk in search of spring migrants. Their trained ears helped others to further hone their birding skills.
On March 28th, because of rainy weather the Bluff's walk was modified to a private garden tour where folks could take cover. Then the group caravanned along the Heiserville Wildlife Management Area's dikes to view shorebirds. This enabled folks to seek the refuge of their cars during rainy spells.
On Tuesday, April 18th twenty-six CU Members ventured to Maryland's Susquehanna State Park. There we met one of CU's Maryland members, Diane Jones, along with local flora and avian expert Dennis Kirkwood to see the spring ephemerals, eagles, and a multitude of great blue herons. The ephemerals were indeed spectacular: blue bells, Dutchman's britches, trout lily, trillium, marsh marigolds, squirrel corn, and others did not disappoint. Attendees lunched in Havre de Grace at the Tidewater Grille where they enjoyed fantastic views of the Susquehanna.

The Native Plant Society Walk was led by Jane Morton Galetto and Tony Klock on April 3rd at Waltman Park. Attendees were very impressed by the trail and by our Maurice River Bicycle & Walking Trail guide. If you don't have a copy, stop by the office and we will be happy to give you one along with animal checklists.
On April 26th we held our first Outdoor Explorers walk of this season. The turnout was light but the spirits were high. We saw a number of interesting things and many were entertained by Vera Rossini, who at 2-and-a-half years of age finds everything fascinating.
On Tuesday, May 23rd, a convoy of members visited Heislerville Wildlife Management Area and nearby environs. Then, of course, the group couldn't resist saving a few horseshoe crabs at East Point.
ADVOCACY and FORUMS
NJ Council of Watershed Associations – On May 31st 10 watershed organizations, including CU Maurice River, gathered at the Watershed Institute for a NJCWA meeting. There Peggy Gallos, Executive Director of the Association of Environmental Authorities (AEA) – which is a coalition of public water, wastewater, solid waste, and recycling service providers, as well as the municipal utilities departments and businesses – gave a presentation on concerns affecting the AEA. Among other topics, the NJCWA discussed the Freshwater Wetlands Protection Act, the newly released Water Supply Plan, a questionnaire for gubernatorial candidates, and an environmental principles letter for NJ representatives in Congress.
Calendar
Remember to check our calendar for any changes or updates.
Address Changes
Please keep us posted on any changes in your email address. Our emails contain a helpful stream of reminders and updates that you won't want to miss.
Membership Info
Do keep your membership up-to-date and/or invite a friend to join. Membership is set at $20 for individuals and $30 for families, although our average annual donation is approximately $75. Mail your check to PO Box 474, Millville, NJ 08332 or join online at www.cumauriceriver.org.
Cool Information
We have gained over 114 new members in the last 12 months.
A special thanks to all those who give the equally important gift of your time. We couldn't do this without you!
CU on the River!