Updates from Citizens United to Protect the Maurice River and Its Tributaries, Inc.
Breaking News
(Millville, NJ) March 1, 2016 – First Osprey Sighting of 2016 – the earliest our members have reported one to CU Maurice River.
CU's Watershed Steward Program 2016 (WSP)
In January CU kicked off its Watershed Stewards' Program. Its purpose is to make an improvement in our region's environmental health by providing landowners in the watershed with ecofriendly best-management alternatives to more harmful practices. Many approaches are easy to implement and often less costly than traditional ones. Implementation of the program's strategies can contribute to improved water quality, restoration of water levels, and backyard habitats that will attract wildlife. Throughout the newsletter this program's activities are labeled WSP (sponsored in part by The Watershed Institute).
Wednesday, March 9, 2016
Meeting 6:30 Presentation at 7:15
George Luciano Center, Cumberland County College
Watershed Management – Land Use and Water Quality
by Fred Akers "Watershed Fred" Administrator, Great Egg Harbor Watershed Association
Mr. Akers will expound upon the character of the Maurice River watershed and its challenges that include storm water runoff, contamination and water level depletion. He will also explain how each of us can promote watershed health by the way we manage our properties.
Fred is a graduate of Drexel University where he received a BS in Business Administration. He is currently the River Administrator for the Greater Egg Watershed Association and Harbor Council, a position he has held since 2002. In this and other civic and environmental positions, Mr. Akers has worked to promote healthy river systems through research, education, and by increasing public awareness of the unique and valuable natural resources in our area.
(WSP) Fred will supplement his presentation with a topical outing on Saturday, April 16th, 2016 at 9:30 a.m. at Millville's Waltman Park, entrances at N. Brandriff Ave. and also Main St. There we will explore superior and inferior examples of land use practices and discuss curbing erosion, run-off, and point source and non-point source contaminants on private property.
Wednesday, May 11, 2016
Meeting 6:30 Presentation at 7:15
George Luciano Center, Cumberland County College
Battlestar Backyardia – Battling Alien Invaders – How to Deal with Invasive Species (WSP)
by Pat Sutton, Author and Naturalist
Many people are surprised to learn that plants they'd assumed were native are in fact alien problem plants. Often gardeners are unaware of the far-reaching damage they can do when they plant invasive species like periwinkle (vinca), English ivy, and bamboo. In a very short time these plants can take over the neighbor's yard, properties across the street and down the street, and even nearby preserves. The invasion of non-natives has taken a big toll on butterflies and moths that need native plants in order to lay their eggs, as well as on insect-eating birds looking for the caterpillars of these butterflies and moths. Sadly, most nurseries contribute heavily to this problem by offering for sale many known culprits: plants that are outlawed in surrounding states and plants that the State of New Jersey is spending enormous amounts of money to control and remove from natural areas. Purple loosestrife is just one example. Most shoppers assume that nurseries are acting responsibly, but the wise gardener needs to be educated to recognize invasives because the nursery trade has a deep-rooted love affair with exotic plants. This program will address key invasive plants, help you learn how to identify them, offer suggestions on how to control or remove them if they find their way into your garden, and showcase lovely native alternatives.
(WSP) This presentation will be supplemented with a practical workshop led by NJ Invasive Species Strike Team representatives from NJ Audubon. They will instruct us on how to identify, remove, and report invasive flora. Waltman Park Saturday, June 18th, 2016 at 9:30 am.
UPCOMING EVENTS FOR MEMBERS AND FRIENDS
MARK YOUR CALENDARS for the 11th Annual World Famous Chili Bowl – Saturday, April 9, 2016 at Rosary Hall, Saint Padre Pio Parish, Dante Ave. in Vineland – 6:00 pm. If you have not yet reserved your seat please do so ASAP; this event sells out swiftly and we are already two-thirds booked. Tickets are generally not available at the door. Also if you have purchased tickets and are not attending be sure to contact the office so we can fill the room. Tickets are $25 a person.
Wendy Walker Wanders: Be on the lookout for emails titled WWW@"SITENAME" for information on impromptu walks with Wendy. Our volunteer naturalists often like to organize walks based on weather reports and enthusiasm. Think of it as being similar to a neighborhood game of stickball when you were younger.
(WSP) A precursor to Dr. Tallamy's presentation. Time to read! Prepare for our Book Circle and the May 7 presentation by Doug Tallamy by reading his book Bringing Nature Home. This book addresses the staggering impacts of our lawn-friendly culture. But better yet it offers ways for all of us to play a role in turning around present landscaping practices with marvelous results. If you haven't already done so, be part of the solution and reinvent your landscape with native plants. Come on April 21st, when Suzanne Merighi will lead the CU Book Circle at Millville Public Library in exploring this topic. Copies of Bringing Nature Home are available at our office for $10 -16.00 (prices have varied), or order through AmazonSmile.com and designate Citizens United to Protect the Maurice River and Its Tributaries, Inc. as your nonprofit of choice.
(WSP) WheatonArts Ecofair May 7th 10 a.m. – Great emphasis is placed on gardening at this event. CU Maurice River has partnered to invite Dr. Doug Tallamy to present Bringing Nature Home. Also, CU has various activities planned for the whole family! Here is CUMR's activity schedule for the EcoFair: CU Ambassadors will be working the table from 9:30 am to 4:30 pm. CU Maurice River Wildlife Management Director Allen Jackson and CUMR Trustee and Naturalist Tony Klock will be leading a Nature Walk at 11:15 am. Then Dr. Tallamy's Bringing Nature Home presentation will start at 1:30 pm and will be followed by a book signing at 3:00 pm. And last but not least, Allen and CUMR Trustee and Naturalist Mary Watkins will be leading a second Nature Walk at 3:30 pm.
Victor Emanuel Tours Survey – The first polling of members to explore possible interest in a 2017 group adventure with Victor Emanuel Tours did not produce a large response. Emanuel Tours is a top-notch wildlife travel company. A number of members have suggested that they could plan for it this year so they have the finances for next year. We will be sending out a poll again.
Saturday, March 19th Walk and Clean-Up along Maurice River Bicycle and Walking Trail. Meet at Waltman Park at 9:30 a.m. for the clean-up. Please wear protective gloves, and calf-height boots if you have them.
Friday, March 25th, 7 p.m. at the Vineland Nature Club, Luther Acres, 560 Sarah Pl, Vineland 08360, CU Maurice River President Jane Morton Galetto presents Vulture Culture. The Nature Club welcomes CU members to attend.
(WSP) Saturday, April 16th Walk with Fred Akers – Meet at Waltman Park at 9:30 a.m. For details see his presentation listed at the beginning of the newsletter.
Saturday April 30, 2016 – 6-9 p.m. – This year's first campfire will be held at Tom and Suzanne Talalaj's home on the Menantico River – GPS location is 3032 Route 47, Millville (actually Maurice River Twp.) Details will be emailed.
Tuesdays on the Fly
Tuesday, March 29th we plan to visit the riverwalk to interpret the historic waterfront. Then our excursion will take us to the Union House Property for a more thorough understanding of the industrial waterfront and Union Lake's importance to this economy.
Tuesday, April 19th – Destination yet to be determined; meet at Waltman Park at 9:30 a.m.
(WSP) Tuesday, May 24th – Meet at Waltman Park at 9:30 a.m. Trip will focus on Wetland Restoration on the Delaware Bayshore, led by Jane Morton Galetto. Participants will have lunch at the end of the tour at around 1 p.m. Walking anticipated, boots a good idea. Watch for upcoming email that will allow for registration.
The 2016 Ah Why Knot Awards with special guests,
the International Shorebird Recovery Team,
and of course the
PIG ROAST – A HUGE DAY of fun! Great for families too!
May 21th is the big event! All members and volunteers are invited to attend the annual Pig Roast and Pot Luck with the shorebird team, where we will also present our Ah Why Knot Awards for the year. This is a great celebration at the Galetto residence, and we want you to come! Please RSVP to Doreen and let us know if you would like to bring an appetizer, side dish, or dessert. Additional entrees, especially vegetarian options, are also especially coveted. Folks are welcome to arrive starting at 2:00 pm for a paddle or some time outdoors, and volunteers are also welcome to arrive at 2:00 pm to help with set-up. Dinner will take place around 5 pm. Please also let Doreen know if you can help with set-up and/or cleanup.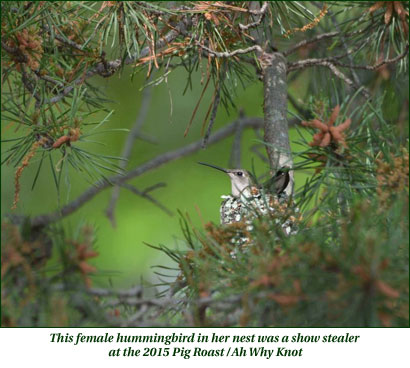 On the morning of May 21th there will also be our Annual Walk at Hansey Creek Road in Commercial Township. Join World Series of Birding Team members Tony Klock and Kathy Michel for a great guided walk. Who knows – possibly other team members like Mary Watkins, Laurie Pettigrew, or Clay Sutton might make guest appearances. The walk begins at 7:30 a.m. in an effort to hear spring migrants sing. Tony is likely to show up even sooner than that; one never knows. The road tends to have great attributes, little to no traffic, wonderful birds and, being on the macadam, fewer ticks.
Ring in the summer on May 30th on the A.J. Meerwald's Memorial Day Sail. CU Maurice River helps fill the boat on this special day, and our members receive a discount on the cost of the ticket. Call the Bayshore Center at Bivalve to make your reservations: 856-785-2060 and mention that you are with CU. What better way to start the summer than with your CU friends!
JUNE 11th Big Day (watch email for more details)
Paddle Menantico Ponds 10 a.m. – Meet at Menantico Ponds Wildlife Management Area. Details will be emailed.
New Member Orientation 6:30 p.m. – New members and coordinators at Russells' home on the Maurice River
Campfire 6:30 -10 p.m. – Russells' home on the Maurice River. Meet the new members; all can sign up.
HABITAT HAPPENINGS
Volunteers cleared a nearly mile-long path at the Cumberland County Guidance Center, which will be available to employees, clients, visitors, and clients' families. About 40 flowering trees were planted along the route so that the walk will be especially enticing in the spring. We thank County Line Nursery for providing native trees at reduced cost for this purpose. Two avian feeding stations were sited on the grounds and the Center plans to put viewing benches near these locations. Bluebird and flying squirrel nesting boxes have also been installed. Wildlife Management Director Allen Jackson has been coordinating our efforts. Peter Galetto installed drainage and leveled a section of the trail that could not be traversed so that the maintenance staff could more easily use a mower along the path. We hope to make further improvements. The trail bisects a cleared area that with proper wildlife management could become a grassy meadow.
On February 25th, volunteers who worked on the Guidance Center's nature trail were invited to lunch at the Center to get a greater understanding of the role the Center plays in our community.
Our informative brochure about the Maurice River Bicycle & Walking Trail, which traverse Waltman and Joe Buck Parks, is close to completion. We hope to help urban and rural residents to connect with the park in a knowledgeable way.
(WSP) The Watershed Stewards' Brochure is drafted and moving into the editing stages.
We will soon be starting work on the WheatonArts Trail. There will be a variety of tasks; some will require strength and others may be as simple yet important as planting seeds.
If you want to help with habitat projects please contact the office. Doreen is keeping track of volunteer names for crew leaders – email Doreen or call 856-300-5331.
RECENT EVENTS and HAPPENINGS
The January 9th Eagle Trail Walk remains one of our most popular outings. 54 folks were split into three groups and despite wet feet we all had a marvelous experience. Afterward half our group filled the porch at Newport Landing Restaurant and had a fun time discussing the birds and mink that we spotted on the trail. Special thanks to leaders Tony Klock, Mary Watkins, Christine Brown, Sue Fenili and Jane Morton Galetto.

This year's 16th Annual Eagle Fest was one of the best to date. The County did a great job of distributing information to various media outlets and the media coverage was super. The weather, combined with the promotion, led to our largest crowd to date. It is estimated that 800-1000 participated. The walks were very well attended. Steve Eisenhauer reported an astounding 140 participants on the Eagle Trail walk. A special thank you to Leslie Ficcaglia for organizing the speaker roster. The presentations were extremely popular, with 75-150 at each presentation. It was grand of Wendy Walker and Debbie Rapp to act as docents at the Turkey Point viewing area, and Kathy Michel and Tony Klock covered the Bayshore Center at Bivalve. New Jersey Audubon did a super job of staffing the stations.
On January 28th – The Volunteer Ambassador Training Party was well attended by enthusiastic volunteers. Many folks mentioned it was a valuable dialogue complete with fun and camaraderie.
(WSP) The February 16th Tuesday on the Fly had about 20 participants who were led by Bob Francois, President of Millville Historical Society, through the 1798 Dunn Stratton House and Wood Mansion. Linda Hruza-Jones, President of the Cumberland County Historical Society, helped lead the tours at the Mansion. Afterward we were treated to lunch at Karla Rossini's home and considering it was a rainy, bleak day, the elk chili was most welcome.
(WSP) February 18th – Century Bank and CU co-hosted Landscape Design With Wildlife in Mind with Naturalist Pat Sutton at Winfield's Restaurant(upstairs). As always Pat did a wonderful job of covering her topic. It was very popular with about 50 participants, and many also enjoyed the fare offered by Winfield's.
(WSP) Friday, February 26th, 2016 – Workshop participants learned how to conduct a habitat assessment on a stream based on New Jersey Department of Environmental Protection protocol. The activity was led by current NJ Watershed Ambassador Tiara Campbell and CU Maurice River's Wildlife Management Director Allen Jackson. There was a discussion on habitat assessment at the Millville library. Then participants carpooled to Westside Park, Vineland, for a hands-on activity. There were 18 people in attendance.
ADVOCACY and FORUMS
In December of 2011 we attended hearings on sewer service areas for Cumberland County. At that time many conservation organizations testified, including CU Maurice River, agreeing with mapped NJDEP limitations to Cumberland County's service area. A large percentage of the areas under contention involved Millville's most rural wooded sections being removed from sewer service. The DEP has chosen, over four years later, to accept all the changes in Cumberland Co. with the exception of Millville. Millville would remain open to all areas being sewered. This decision was made because a consensus was not reached between Millville and the NJDEP. We believe the NJDEP decision to be out of compliance with laws and regulations and we will be discussing options with fellow South Jersey Bayshore Coalition members.
WORLD SERIES OF BIRDING
The CU Fish Hawks will be back in action in the World Series of Birding on Saturday, May 7th. This has become an extremely successful fundraiser for CU Maurice River, and it will again support our Raptor and Waterfowl Surveys on the Maurice River and other avian work conducted by Clay Sutton and Jim Dowdell. Please consider a donation to the cause. This year's team has the same fantastic members: Clay Sutton, Tony Klock, Kathy Michel, and Captain Mary Watkins. You can support the team in one of three ways: 1) take a gamble and make a pledge per species, 2) send any flat dollar amount, and/or 3) help us find sponsors for the team! A new CU Fish Hawks t-shirt design is in the works for those who contribute $50 or more. We need not only donations but also volunteers who would like to help raise pledges. Go, Fish Hawks! For more information contact Jane Morton Galetto – forrivers@comcast.net or 856-300-5331.
OTHER OPPORTUNITIES TO VOLUNTEER
March 19th – Waltman Park Walk and Clean-Up. Please contact Karla Rossini by email – Karla.Rossini@cumauriceriver.org – or by phone at 856-300-5331 if you are interested in helping.
Wild About Cumberland – March 22th, 23th & 24th. This year we will once again partner with the Bayshore Center at Bivalve, The Nature Conservancy, Woodford Cedar Run Wildlife Refuge, and PSEG to get Cumberland County 4th graders into the great out-of-doors. Teachers, students, and chaperons will be treated to a half-day outdoors on nearby trails with CU leaders and volunteers, and a half-day indoors at the Bayshore Center with sessions that emphasize "sense of place" and focus on local habitats and species.
March 18th – CU Maurice River sponsors the Riverfront Renaissance Center for the Arts Associate Artists' Show – CU Ambassadors are needed. Email Doreen or call 856-300-5331.
Hosting the International Shorebird Recovery Team in May. If you would like to provide a meal, or be part of a cooking crew, for the recovery team please email Jane or call her at 609-774-5853. She will be reaching out to past participants and/or their team captains. For those new to this undertaking we have been feeding the scientists and their assistants for over 8 years. A team or over-energetic chef basically makes a meal for 25 to 30 folks. It is much easier than it sounds. It is buffet style and the scientists will lend a hand if necessary. You do not have to clean up or set tables (although everyone's approach is different). It is an experience you won't want to miss. If you are a newbie to the process we can connect you with a team to provide a side or dessert.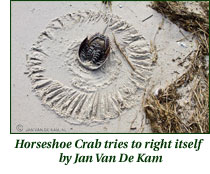 reTurn the Favor
Horseshoe crabs are a key player in the ecosystem of the NJ Delaware Bayshore, having existed for millions of years. Their spawn is critical to migrating shorebirds. Thousands of crabs each year are trapped by rubble, bulkheads, and other impediments. Last year our volunteers put in many hours and helped save hundreds to thousands of crabs near East Point Light House. If you are interested in freeing trapped horseshoe crabs, email Karla or call 856-300-5331. Karla will keep you posted on the particulars. If you are new to the program, make sure to sign up for the RTF training. That will be held at the Bayshore Center at Bivalve on April 23rd, 2016 at 10:00 a.m. Experienced volunteers can get the necessary permits at the CU office. Be on the lookout for more information in your email.
Friday May 27th 7:30 p.m. to 9 p.m. is the most Family Fun Evening of All – The Annual Frog Slog with Fred Akers.
Discover the secret life of frogs on this night excursion. Learn to identify frogs by their breeding songs and more. Come with a flashlight and be prepared for wet, frog-sloggy conditions – knee-high mud boots or higher preferred. Free and open to all ages. KIDS LOVE THIS EVENT! Touch tanks available! Please register in advance with Karla or call 856-300-5331. We might be trying a new location this year so calling in will be imperative.
Bay Day June 4th and Barn Day June 5th -Two super days of fun; we will need CU Ambassadors for both. You won't want to miss these wonderful events! More details to follow in emails. To volunteer as a CU Ambassador email Doreen or call 856-300-5331.
WANTED: Donations of working spotting scopes. The scope must be of a good quality for viewing. Why would we be particular? Many folks are challenged by looking though a scope and a poor quality instrument only makes this task more difficult. Often scopes are the only way we can get children to see ducks at a distance. Many of our birders may have upgraded to different or lighter scopes, and donating your older scope to a nonprofit could benefit both of us. Thanks, and contact Jane if you are can help – forrivers@comcast.net.
Calendar
Remember to check our calendar for any changes or updates.
Address Changes
Please keep us posted on any changes in your email address. Our emails contain a helpful stream of reminders and updates that you won't want to miss.
Membership Info
Do keep your membership up-to-date and/or invite a friend to join. Membership is set at $20 for individuals and $30 for families, although our average annual donation is approximately $75. Mail your check to PO Box 474, Millville, NJ 08332 or join online at www.cumauriceriver.org.
A special thanks to all those who give the equally important gift of your time. We couldn't do this without you!
CU on the River!