Updates from Citizens United to Protect the Maurice River and Its Tributaries, Inc.
Wednesday, November 11, 2015
ANNUAL MEETING OF MEMBERS AND PRESIDENTIAL VOLUNTEER SERVICE AWARDS
Annual Meeting 6:30 pm
Presentation at 7:15 pm*
George Luciano Center, Cumberland County College
Recollections with Pat Witt
An Armistice Day Chat
Once Upon a Time…
Then and Now
Special guest Pat Witt is regionally legendary. She is the founder of the Barn Studio of Art and is Millville's art laureate. Born on February 10, 1927, Pat is a life long native of Cumberland County and grew up on the Maurice River. She began studying art in 1937, attending the Philadelphia Museum of Art, Pennsylvania Academy of Fine Arts, and Glassboro State College. She has had many one-woman shows, and has been part of group shows for more than 40 years at the Philadelphia Museum of Art, Philadelphia Art Alliance, The Noyes Museum, Brian Parent Center, and as part of the American Painters in Paris Bicentennial in 1976 in Paris, France. Tonight we hope to hear about her recollections as a farm girl, her escapades on the river, and even her time as a USO Girl in what is now the CU office. When asked to speak Pat said, "I think Armistice Day is appropriate for remembrance – the 11th month, the 11th day and the 11th hour." Pat has interesting stories to share about Millville's WWII days. A warm, colorful and Witty personality, you won't want to miss this program.
New Trustees and Elections
Existing trustees nominated for continued service are: Jane Morton Galetto, Anthony Klock, Sue Fenili, and Mary Ann Russell. Newly accepting nomination to the board are Jody Carrara and Thomas Talalaj. We are very excited to have new expertise to add to our board. Jody is very familiar with land use and has been an employee of the Association of NJ Environmental Commissions for 20 years. Tom is an engineer and a sportsman with a keen interest in the out-of-doors.
Upcoming Events for Members and Friends
Our Fall Fundraiser takes place at La Bottega Art Gallery and Winfield's on September 14th. This newsletter might reach you in time to participate, but we fear the timing is such that the event will have taken place or will be booked. Check with Doreen if you are interested doreen.homan@cumauriceriver.org or 856-300-5331. The event information was shared previously via our email hotline and calendars.
Are you joining us for Monarch Mania on Saturday, September 26 th, at 9 a.m. If so we will carpool from the Millville Municipal Parking Lot behind CU Maurice River's office. Our rendezvous point will be Triangle Park in Cape May Point at 10:30 a.m. There we will join Mark Garland until noon. Fingers crossed that it will be a good year for migrating monarchs. Participants may leave at noon or stay on for lunch and a leisurely walk. If you are staying, please pack a picnic lunch to eat in Cape May Point State Park. After lunch we will hike a loop trail at the Park. The walk will be led by CU Board Member and Naturalist Mary Watkins. In past years the loop had a host of migrating butterfly species, birds and neat fauna for us to enjoy. For those who stay on for the walk, expect to be back in Millville between 3 and 4 p.m. Participants must RSVP to doreen.homan@cumauriceriver.org or call 856-300-5331. Costs: Members free, non-members $20.
The Annual Artists' Day in Mauricetown is September 12th (see opportunities to volunteer)
October 10 is another BIG DAY – Paddle and Campfire Pot Luck – Do it all or a la Carte. We will begin our paddle 9 a.m. at Waltman Park and we'll go a short way north to catch a peek of the spillway before heading south to the Galetto property. Life jackets are mandatory. The paddle will take an estimated leisurely 3 hours. Feel free to pack a lunch to eat at Galettos'. You may refrigerate your item at their home. We will travel with the tide but can't predict the wind. We will orchestrate getting some cars on each end of the route once we know who is attending. Canoes and kayaks can be rented from Al and Sam's Canoe and Kayak Rental if you don't have your own. If you have a means of transporting a canoe, we have a few available. It is a perfect way to take a family downstream. The Campfire Pot Luck will begin at 5:30 also at Galettos', 22 Brittany Lane, Millville. Bring musical instruments, camp chairs, blankets, wooly caps and the like. In the event of rain, we will go indoors. Please RSVP to Doreen, doreen.homan@cumauriceriver.org or call the office at 856-300-5331 at your earliest convenience. For the campfire Doreen will want to know what you would like to prepare so we will have a variety of selections.
Tuesdays on the Fly once again meets at Millville's Waltman Park off Brandriff at 9:00 and from there we carpool to that day's scheduled location. Upcoming walks will be: September 22nd, October 20th and November 17th. Often we lunch at a venue near the destination or pack a picnic lunch. If you don't join us for lunch, you will likely return to the Park around 12:30 pm. If you would like to enjoy a leisurely lunch with us, anticipate being back around 2-2:30 pm. The camaraderie of Tuesdays on the Fly is really special.
The saga of preserving the 80 acres of state-owned land remains in limbo. On June 23rd we participated in a press conference in which Senator John McKeon joined the State's top conservation organizations to advocate for leaving the recently annexed 80 acres within the Menantico Wildlife Management Area (WMA). This press conference preceded the June 25th meeting of the State House Commission in which the fate of the property would have been determined, had it not been for Senator Bob Smith who questioned the process by asking the Office of Legislative (OLS) Services to review it and make sure that it conformed to the Ogden Rooney Law. The OLS identified a number of issues in their review document. So the Commission tabled the vote.
On a somewhat parallel track the County and City of Millville challenged the handling of the purchase itself. And on August 3rd the Superior Court of NJ Appellate Division ruled that the land was properly purchased. Basically, the DEP has defended the rationale and procedure they applied when purchasing and adding the acreage to Menantico Ponds WMA and the courts agreed the track was environmentally appropriate for acquisition, represented critical wildlife habitat, and the process was properly followed. The court also noted that the City of Millville had had adequate prior notice of the sale. This ruling was a HUGE affirmation of all the points we made at various hearings.
HOWEVER here is the rub. The DEP is trying to appease Millville and Cumberland County by using the Ogden Rooney process to sell the property to the City of Millville (or some connected entity) in order to accommodate speculative development. Should this happen it will set a tragic precedent in which all protected space in the State is in jeopardy of being reversed to further some entity's development desires.
Habitat Happenings
A record number of osprey fledged from CU Maurice River platforms this year – 90 chicks. We also added a few platforms. One new nest was named Patsy Witt – after Millville's great Marsh Artist and Art Laureate Pat Witt. Pat's mother called her Patsy and the platform is in a marsh near what was the Maurice River property she grew up on.
Dragonfly Nymph Collection for Air Quality Testing. The National Park Service has been testing micro-invertebrates to determine the extent of mercury contamination in our national parks. Dragonflies are a great environmental indicator species since they live in nymph form for 3-5 years and bio accumulate airborne toxins that settle in waterways. A small sample of nymphs can provide trace indication of the health of the air and consequently the stream. When we heard about the testing Karla was eager to take advantage of the laboratory analysis and see how our Wild and Scenic Rivers fared. Over a three-day time more than 30 volunteers devoted 187 hours to the muddy hunt for dragon fly larva and nymphs. The team of citizen scientists caught, identified, and bagged 46 specimens from four different anisoptera families.
A special thanks to all the volunteers and to Paul Kenney of NPS for connecting us with the program. Further Lynn Maun and Fred Akers of the Great Egg Harbor Watershed brought their expertise to bear on the collection and identification process on our first outing. Volunteers include Rob Dube; Maureen Barrett; Bill Barrett; Wendy Walker; Jane MG; Karla R; Lynn Maun; Paul Kenney; Fred Akers; Jim House; Scott, Sue, and Dave Fenili; Tony Klock; David Lowenstern; Tom McKee; Marilyn Rabbai; Cyndie and Maddie Hornblower; Fern Detwetter; Randi Ziring; Dian Shivers; Eileen Wiggins; Alissa Ambacher; Mike Golla; Ann Kistler; Marika Mazarek; Phillip Leonetti; Vinny Zangi; Gail Hammell; Carl Homan; and Jack and Bette McCarron.
Habitat Happenings, Speakers, Grants…
We have a filed a grant to complement the wildlife management work carried out by CU Wildlife Management Director Allen Jackson. It involves interpretative work at Wheaton Arts.
In yet another grant the focus is to bring to homeowners and river property land owners a greater skill-set to improve wildlife stewardship work on their properties. At this point we have committed to hosting the author of Bringing Nature Home, Douglas Tallamy, at the Wheaton Ecofair. Wheaton has been kind enough to provide the venue!
Should these grants be successful we will share more details.
Opportunity to Volunteer
On September 12th we plan once again to be involved in Artists' Day in Mauricetown. Generally we orchestrate CU Paint-A-Landscape and we talk to folks about what CU does. CU Ambassadors, please contact Doreen Homan by email doreen.homan@cumauriceriver.org or by phone 856-300-5331 if you are interested.
Recent Events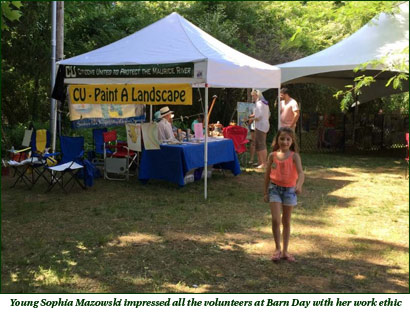 Bay Day and Barn Day were a great success. There were numerous CU Ambassadors on hand at both events. At Bay Day CU orchestrated a weighted loom with the Bayshore Center Logo in the middle of the many items that participants wove in throughout the day. A number of our joint members (CU and BCB) shucked oysters or cooked meals. CU partnered with The Nature Conservancy to help visitors fill out a survey concerning their ecotourism experience in the Bayshore Region. We were able to surpass our goal of completed surveys and handed in over 25 to Laura Chamberland at TNC. CU Paint-A-Landscape at both events had a steady flow of participants. And as always our Ambassadors interacted at the information table with a large variety of visitors. Those who helped out included Cheryl and Tony Loatman, Mike Golla, Wendy Walker, Scott, Sue, and Dave Fenili, Elayne Sama, Mary Steinacker, Tiara Campbell, Sharry and Marika Maserek, Jill Mortensen, Ethan Aronoff, Jim House, Ed Pio, Terry Ballas, Caitlin and Sophia Mazowski, Jane, Carl and Doreen Homan, Karla Rossini.
Over the past three months Tony Klock and Mary Watkins have led the Waltman Park Saturday walks. Each season the park's face changes and brings new wildlife phenomena and gives us new viewing experiences. This year's star players turned out to be a common loon that made an unseasonable appearance as well as nesting endangered red-headed woodpeckers.
August 5th was the 11th Annual Elevate Day on the river. This is a summer enrichment program of a Vineland youth day camp. As usual we had a great group of staff and volunteers: Cyndie and Maddie Hornblower, Caitlyn and Sofia Mazowski, Phillip Leonetti, Vinnie Zangi, Wendy Walker, Mary Watkins, Christine Brown, Tom McKee, Susan Bassi, Carl and Doreen Homan, Marika Mazarek, Sue Leopold, John Olah, Sue Godfry, Tony Klock, Karla Rossini, and Jane Morton Galetto. We had around 30 Elevate participants. We did the traditional activities, a slide show from the previous year, a paddle lesson, a boat ride, bird watching, CU Paint-A-Landscape, lunch and a seining event.
Plea for Canoes. Our members are simply amazing. Leading up to Elevate and in anticipation of getting more families on the river we asked folks if they had a canoe they would like to donate for use by CU families and our guest children groups. You did not disappoint! Joann Murphine had predicted this need and gave a canoe a year ago. The Klocks said we should keep the canoe we had been borrowing year after year. And three other families donated canoes. Roger and Amy Asselta provided a canoe that was their "engagement" canoe… thus I have dubbed it "Love Boat." And Ken and Mary Taft donated a canoe they had used for their children and grandchildren and they wanted to see the tradition carried forward. We haven't named that one yet; send in your ideas. And imagine, one of our calls came from Milford, NJ where Peter Craig added a Grumman canoe to our little flotilla. Brian Johnson constructed a rack to stow them. Wow! Thanks ever so much.
On August 21st Pledge to Fledge was held. This is a NJ Audubon program at Cape May Point State Park that seeks to get youth involved in birding and nature. Christine Brown, Ferne Dewiler, Rob Dube, Mike Golla, Nancy Mills, Dianne Shivers, Mary Steinacker, Wendy Walker, Doreen and Carl Homan all led the Paint-A-Landscape Activity and served as CU Ambassadors at our information table.
Sue Fenili orchestrated our "Connect with Nature" at the YMCA's Camp Merrywood in Pittsgrove Twp. Sue developed an exceptional partnership with the YMCA that just completed its fifth year. Each week of the camping season different CU volunteers lead an activity at the camp. This year activities were led by Elayne Sama, Bette and Jack McCarron, Doreen Homan, Karla Rossini, Jane Morton Galetto, Mary Ann Russell, Sue Leopold, Suzanne Olah, Barbara Aronoff, Joan Morton, Cheryl Fox and Dave and Sue Fenili. Of special note was the trail walk, Signs of Nature, which was the inspiration for a subsequent activity, the painting of canvas murals by campers. These canvases will ultimately be hung in the lobby of the YMCA for a stint. Judy and Will Martin donated the canvas and Karla led the activity. Thanks, everyone!
June 13th – A Full Day – Paddle, New Members, and Campfire
We began our paddle at 10 am exploring Menantico Ponds in a leisurely fashion. We ended the trip at the confluence of Buckshutem Creek and the Maurice River. The weather was absolutely picture perfect and 23 people had a grand and relaxing time.
After the paddle we held our new members' orientation, attended by 37 people. They are to be saluted for being good sports during what was a very long orientation. And about 75 members attended the subsequent campfire and covered dish meal. A very special thank you to Mary Ann and Tim Russell for opening their home to the new members and their grounds to the campfire.
June 23rd Tuesday on the Fly. The 16 walkers went to visit the Community Butterfly Garden on High Street. There Master Gardener Kim Conner was kind enough to show participants the many native plantings, butterfly larvae and roof-top watering system used to maintain the garden. Walkers were very impressed by the fact that Kim has been managing this site on her own.
A very special Tuesday on the Fly was heldon July 21st – we had over 30 sign-ups. Heat warnings were initially reasons for concern but it turned out to be an unusually delightful day. When we were at Leamings Run the day was overcast and the heat held off. Then we carpooled further south to the Cape May Canal where we boarded the Osprey with Captain Bob Lubberman. Luckily, a nasty lightning storm just missed us and we got the delightfully cool breeze without the drama. The birds were cooperative and Vince Elia and Mary Watkins did a super job of leading us.
This year we ran four Purple Martin Spectacular Cruises in August. All the boats were fully booked with over 55 participants on each. We had a waiting list of well over 50 folks even after Captain Tim Smith of the Bodacious ran an additional trip to accommodate those who could not fit on our narrated cruises. Next year we have booked two additional dates – August 11th, 12th, 13th, and 18th, 19th, 20th. If you missed out, mark your calendar and plan to call the CU office June 1st of next year to make your reservation. The birds were amazing. CU Director of Wildlife Management Allen Jackson and biologist extraordinaire on August 21st estimated over million birds in evidence, which is the largest known purple martin staging to have taken place on the Maurice River. CU Docents, NJ Audubon Naturalists, ANJEC and Maurice River Township all did a magnificent job both on board the cruise and planning the event. NJA Naturalists included Chris Marks, Megan Crewe, Mike Crewe, Barb Bassett and Bert Hixon. Mary Watkins, Kathy Michel, Doreen Homan, Carl Homan, Denise Peterson and Karla Killpack Rossini served as docents and hosts on all the cruises. Denise Peterson and Michelle Behm from Maurice River Township Hall helped promote the trip and provide names of business establishments where folks could eat while in our neck of the woods. Jody Carrara of ANJEC put out directional signage.
On August 29th Pat Sutton, naturalist extraordinaire, led 27 garden enthusiasts though a number of our members' gardens. The Garden Tour is always a hit and consequently booked well in advance. A special thank-you to the following members for hosting at their gardens: Janet Crawford, Tony and Marcia Klock, Jane and Peter Galetto, Shoshana Osofsky, Pat Witt of the Barn Studio, Brian Johnson of the Natural Lands Trust, and Leslie Ficcaglia. Due to time constraints we missed visiting the Natural Lands Trust's Peek Preserve, but we thank them for offering to host us and hope next year to make it a priority stop.
Waltman Park Saturday River Walks meet at Millville's Waltman Park off Brandriff at 9:30 am led by CU's favorite naturalists. Upcoming walks will take place September 19th, October 17th, and November 21st. Tony Klock and Co. will be your tour guides.
Address Changes
Please keep us posted on any changes in your email address. Our emails contain a helpful stream of reminders and updates that you won't want to miss.
Membership Info
Do keep your membership up-to-date and/or invite a friend to join. Membership is set at $20 for individuals and $30 for families, although our average annual donation is approximately $75. Mail your check to PO Box 474, Millville, NJ 08332 or click here to pay on line.
A special thanks to all those who give the equally important gift of your time. We couldn't do this without you!
CU on the River!