Updates from Citizens United to Protect the Maurice River and Its Tributaries, Inc.
Next Meeting and Presentation – Wednesday, January 8, 2014
Member meeting 6:30 pm, Presentation at 7:00 pm*
George Luciano Center, Cumberland County College
Cristina Frank, Lead Environmental Scientist, Pepco Holdings
Program: Avian Protection Programs Along Power Lines
When birds interact with electric utility infrastructure, the result can be bird fatalities and power outages due to damage to electrical facilities. These risks increase in the Delaware Estuary where large raptors and other breeding and migratory birds concentrate. To minimize avian hazards from its overhead infrastructure, Pepco Holdings, Inc. (PHI), a power delivery company serving two million customers in NJ, DE, MD, VA and D.C., developed an Avian Protection Program. In her role, Cristina Frank oversees the company's comprehensive Avian Protection Program across the entire service territory. Throughout her career, Cristina has focused her efforts on reconnecting communities with the outdoor world, promoting meaningful environmental protection and improving the natural world for generations to come. Prior to joining PHI, Cristina implemented and managed New Jersey's Important Bird Areas Program as a wildlife biologist with NJ Audubon in southern New Jersey. Cristina also monitored and protected many of NJ's threatened and endangered birds, including osprey and bald eagles, with the NJ DEP's Endangered and Nongame Species Program.
March Meeting: Wednesday the 12th,
George Luciano Center, Cumberland County College
Pat Sutton
Gardening with Native Plants
By March, many of us are itching to get out and play in the dirt, although it might still be a bit too cold and/or windy. However, it's the perfect time to start planning something new in your garden, and Pat Sutton is the perfect person to give you some ideas about native plants that will attract birds and butterflies. Native plants often adapt better than non-native plants and can be easier to grow.
*Please note, the member meeting portion of our bi-monthly meetings is now kept to 30 minutes maximum to allow our guest speaker to start on time.
Up-Coming Events for Members and Friends
Take a Walk with Tony Klock, Saturday, December 18th, 10:00 am on the Bald Eagle Trail at Turkey Point.
Since there are no Waltman Park Walks until March, CU Trustee and Treasurer Tony is leading a group on one of his favorite trails along the marsh. We've scheduled it a little later in the morning in hopes it's not too chilly, but do bundle up and wear shoes or boots that are appropriate for wet conditions.
2014 Cumberland County Eagle Fest
Saturday, February 8th, 8:00 am to 4:00 pm, with a 7 a.m. Sunrise Walk at Turkey Point led by CU Trustee Karen Johnson Volunteers Needed!
Since we'll be having the Chili Bowl a month later (see below), our hope is to put a bit more into the Eagle Fest and have a wonderful time while we're doing it.
Five staffed viewing sites will be open throughout the day. Walks with NLT's Steve Eisenhauer and Brian Johnson begin at 10 a.m. and 1:30 p.m., at 12 noon TNC staff will lead a walk at the Commercial Township Estuary Enhancement site, and at 5 p.m. the day finishes up with the traditional Owl Watch led by Mike Crewe of NJ Audubon and others.
The indoor portion of the festival is held at the Mauricetown Firehall. Planning is still underway, but you can count on terrific presentations again this year including Rob Beirregaard on Barred Owls, Clay Sutton on Avian Studies on the Maurice River, Pete Dunne on Breaking into Birding, and more! Visitors will also have a chance to see displays, local art, and merchandise from many different organizations and vendors. Crab cake and fried oyster sandwiches, along with other goodies, will be on sale throughout the day. Tickets are $10 for adults and $5 for children 12 and under, paid at the door.
Volunteers are needed at the five outdoor viewing sites for 2-3 hour shifts, and indoors at our information table for similar periods of time. Please email Lillian or 856-305-3238 to sign up for either or if you have any questions. Mike Crewe of NJ Audubon will be coordinating the outdoor stations, and Lillian will pass your name and contact information along.
Upstairs at Winfields, Wednesday, Feburary 19th, 7:00 pm, with Mark Garland, Upstairs at Winfields Restaurant
A Cape May resident, Mark Garland is the author of the book Watching Nature: A Mid-Atlantic Natural History, published by the Smithsonian Press in 1997, and of the chapter Canal Walk in the Anthology of City Birding, published by Stackpole Books in 2003. He is also a seasoned eco-travel leader who has been an invaluable advisor to CU's travel program. He will give a glorious presentation about Tropical Birds. A precursor to a future CU travel program? We're not sure just yet. So think about it as a fun escape on a winter's night.
To make reservations email Lillian, she will coordinate with to Winfield's. We suggest either dining before hand at 5:30 p.m. or afterward at 8 p.m.
Chili Bowl! Chili Bowl! Chili Bowl!! Saturday, March 8th 2014 at Rosary Hall, Saint Padre Pio Parish Dante Ave in Vineland – 6:00 pm
We're changing things up for next year's Chili Bowl and Silent Auction. The main attractions will stay the same – same great food, same great auction items, and same crazy live auctioneer… And same price, $25 per person. We are trying a new location and making it a separate date from the Eagle Fest.
The plan is to make the chilis in the kitchen at Rosary Hall that morning and keep them warm in the ovens or on the stove-top until the event. In the meantime, we'll set up the room and get everything ready. We're hoping for a strong turn-out, especially from our members and friends in the Vineland area, so mark your calendars and start putting together a table.
Register early by emailing Suzanne Olah or calling her at 856-327-5118, and then pay for your tickets online and please designate "Chili Bowl" in the box provided on the web page, or mail your payment to CU Maurice River, PO Box 474, Millville, NJ 08332. PLEASE purchase your tickets in advance to avoid a line! The event commonly sells out so there may not be tickets sold at the door.
Chefs are needed for chili, appetizers, cornbread, and brownies/cookies, as well as volunteers for kitchen and setup/cleanup help. Additional auction items are also needed, as are sponsorships. Perhaps you are able to offer an experience-oriented excursion? Previously such excursions have included eagle and osprey banding, trips to botanic gardens, history and Pine Barrens plant tours and other biological and cultural outings. We would also love to have a timeshare item or vacation house opportunity. To donate an auction item or a sponsorship, contact Jane at 856-327-1161 or email Jane.
Wild About Cumberland! Tuesday and Wednesday, March 25th and 26th, 2014
After our great success in 2013, CU Maurice River is again partnering with the Bayshore Center at Bivalve, The Nature Conservancy, Woodford Cedar Run Wildlife Refuge and PSEG to give Cumberland County 4th graders a great day of indoor and outdoor education. Teachers, students and chaperones will be treated to a half day outdoors on nearby trails with CU leaders and volunteers, and a half day indoors at the Bivalve Center with sessions that emphasize "sense of place" and environmental education centered on our local habitats and the species they might encounter. CU volunteers are needed to help on the outdoor walks, and perhaps at a couple of the indoor stations. Please contact Lillian if you are interested and willing! Also, if you would like to make a special year-end donation toward this fantastic event, it would be most welcome to help us cover the costs of buses, live birds and facility expenses. Last year, individual member contributions accounted for a wonderful 35% of expenses!
CU Maurice River Advocacy Update
Last quarter we reported the great news that the Durand Property in the Millville Industrial Park that was the site of a proposed and thwarted asphalt plant was purchased and protected by NJDEP. This property is adjacent to other protected space as well as the municipal industrial park. So after the purchase, controversy ensued. The City of Millville and Cumberland County are contesting the acquisition as well as investigating a possible diversion, meaning a swap of lands as dictated by the Ogden Act. The Act was enacted to make it very difficult to take preserved lands and develop them. As one might guess, there are protected properties all over NJ that would be jeopardized if this were a simple process.
We are spending a lot of time on the conservation of properties as of late. Often this involves sensitive issues and negotiations. When we are able to report results and conclusions we certainly will. We only bring it up because recently we have been unusually busy with such undertakings along with our environmental brethren. We hope in the end we will have great successes to report. Time will tell.
Our executive director continues to represent us on the Keep It Green task force. The mission there is to get Green Acres funding on the ballot this coming year. As you may know, the state land management, wildlife and farmland preservation funds are nearly depleted. And we the voters want a chance to support the state's acquisition and land management programs before there are no funds for the continuance of these efforts. From our perspective this is a dire situation.
The US Fish and Wildlife Service has recommended the Red Knot for federal threatened species listing. The 60 day comment period closes on November 30. At that time they will review all comments and make a final recommendation. We and many others have petitioned for the protection of this species. The service recognizes the habitat protections of shore front necessary for breeding and also their close association with the horseshoe crab migration. Assuming the Service follows through on the recommendation, a recovery plan that outlines protective measures and wildlife management techniques will be drafted for the species.
We continue to attend a wide variety of meetings, monitoring and giving input into topics of conservation concern.
Recent Events
Tours of Private Wildlife Gardens in Cumberland County, September 14th
A sold-out crowd enjoyed a day of grateful enjoyment of other peoples' hard work! Thank you to our gardener hosts, including the Harold N. Peek Preserve, where our day started with a surprise visit by Dale Schweitzer to show us his Hickory Horned Devil Caterpillars, and ended with three Bald Eagles soaring over the wild rice marshes. In between, we had wonderful visits at the homes of Janet Crawford, Walt Birbeck and Eileen Wiggins (they say Eileen does all the work…), Tony and Marcia Klock, Jane and Pete Galetto, Irene Bird and the Barn Studio of Art, where we were treated to a guided walk by a couple of young naturalists. It was so wonderful, we're doing it again next year in August. See the 2014 Calendar later in this newsletter.
Outdoor Artists Day, September 14th in Mauricetown
Many thanks to the volunteers who manned our informational table and Paint-a-Landscape on the grounds of the Mauricetown Historical Society. A busy and beautiful day!
Dinner at Winfield's, Monday September 16th
This year's fall fundraiser was a great success. After a cocktail hour at La Bottega Gallery, where lots of folks connected with memories of great outdoor places depicted in the art, and many purchased a special piece or two, we packed the house at Winfields for a lively and delicious dinner. Special thanks to Mary Ann Cannon and Bobbie Berg for their generous donations of 20% of proceeds at La Bottega, Suzanne Olah for handling reservations, Suzie Merighi and Mary Ann Cannon for appetizers at La Bottega, and to Rick and Lois Abbott and the staff at Winfields for making it such a lovely evening.
Monarch Mania, Saturday, September 28th
Louise Zemaitis of the Cape May Monarch Monitoring Project gave us a fantastic presentation at the attractive yard containing Bill and Edie Shull's butterfly garden. Although the monarchs were somewhat scarce, we had enough to thrill the young folks who attended, and we got a nice look at a praying mantis that lit on Lillian's mother's hat! Here's hoping for a successful winter for the Monarchs. We hope to see more of them next year.
Paddle and Campfire, Saturday, October 12th
Weather fouled up our plans for a paddle, but about 35 folks gathered at the Galettos' residence for wonderful food (yes, there were baked beans, and they were delish!), and some singing and even a bit of dancing. Thanks to everyone for coming out on a bit of a sloppy night and sharing your culinary specialties!
CU Maurice River at the NJ Teacher's Convention? Who'd of thunk it!?
CU Maurice River joined forces with our boat-building partners from the Bayshore Center at Bivalve at the 2013 NJ Teacher's Convention in Atlantic City on November 7th and 8th. Bill Sheridan and his team recruited a class from Atlantic City to actually build a boat right there at the event! His team also provided a huge display of all kinds of boats built by the kids over the years. It was fantastic. You should have seen Jane jumping in with the planer. See Jane plane. (Sorry, couldn't resist…) CU Maurice River supplies all the financial support as well as many volunteers for this project.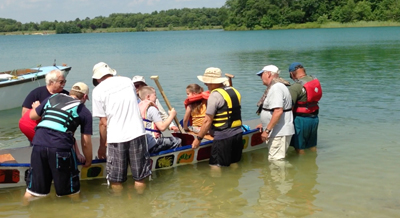 This timely update arrived from Bill as we were finishing the newsletter: "We will be building 2 15′ rowing Garvey's in the life skills class at Cumberland Regional High School, Tuesdays from 12:00 p.m. to 2:30 p.m. Tuesday 3:00-5:00 p.m., we will be building one sailing Garvey ( same plan) at Memorial Elementary School in Bridgeton. Our super boat designer Clyde Phillips is designer the Garvey's and both projects will start in late February with an anticipated June 2014 finish. Boat and trailer maintenance will continue on Mondays starting in late February." Bill is looking for more volunteers so call him at 856-265-5564 or email bills2101@yahoo.com for more information.
We had a festive meeting featuring a beautiful slide show celebrating our volunteers and the addition of our two new Trustees, Suzanne Olah and Mary Ann Westerfield, as well as thanking our out-going Trustee, Diane Amico, and presenting 19 President's Volunteer Service Awards along with certificates of recognition from Congressman LoBiondo. And the winners were: Bronze Awards for between 100 and 249 hours, Bill Sheridan, Judy Nelson, Wendy Walker, Dave Zane, Dave Fenili, Frank Kammerer, Mary Ann Russell, Leslie Ficcaglia, Susan Leopold, Mike Golla, Tony Klock, Karen Johnson, Irene Bird, Mary Watkins, and Suzanne Olah; Silver Awards for between 250 and 499 hours, Sue Fenili, Dee Shiell and Clay Sutton; and a lifetime achievement award for the amazing Mr. Allen Jackson. Congratulations to everyone and thank you!
Book reading and signing, November 15th
Home-grown author Lisa Borders recently released her new novel The Fifty-First State. In mid-November she delivered a book reading at the River Renaissance Center for the Arts. The novel's setting is a fictional town in Southern NJ that resembles our small bayshore communities. Most of the plot is devoted to the struggles of a half brother and sister united after an accident leaves them without parents. The older sister is given responsibilities that remove her from her life in NYC to assume a parenting role. In the book Borders inserts a sub-plot that has an environmental bent. A percentage of the sales from the books sold at the RRCA are being donated by the author to CU. We thank you, Lisa, for this kindness.
A final note on activities, during the past year the Millville Chamber honored at least three of our trustees for their contributions to the community, Ethan Aronoff, Irene Bird and Joanne Murphine (Trustee Emeritus). Kudos!
End of the Year Appeal and Memberships
Those of you who received an envelope in your newsletter denoted that we haven't received a renewal from you in 2013.
Those of you who receive the newsletter electronically and like what we do we ask you to join ASAP to keep our good deeds coming.
You can join on line or send your annual donation to CU, PO Box 474, Millville, NJ 08332.
Many folks prefer to give later in the year and we look forward to your contributions. The response rate has been outstanding!
A Year-End Note from Board President Jane Morton Galetto

As one of many leaders in our organization, if you ask me "Why do people join CU Maurice River?" I and many other trustees will likely tell you, "It is because of the people's connection to our mission and the great work we do." Needless to say, that is a primary motivation and I can't imagine someone joining who did not feel an affinity toward our charge. But if you ask experts why folks initially join organizations, the number one reason is because a friend recommended that they get involved – essentially inspiring them to join. So in reflecting on that sentiment my thoughts begin to wrap around you and all the people our members introduce to CU. And what an eclectic group of people we end up being, with a great diversity of talents that, when brought together, achieves such a wide range of accomplishments. In our ranks we have GIS expertise, teachers galore, biologists, carpenters, builders, hunters, birdwatchers, graphic designers, planners, architects, doctors, nurses, artists, activists, financial advisors, business managers, accountants, musicians, engineers, chiefs, school administrators, mechanics, marketers, watershed specialists, pavers, restaurateurs, glass manufacturers, armament experts, psychologists, historians, lepidopterists, ornithologists, fishing gear manufacturers, jacks-of-all-trades, a list that could fill pages. And beyond amazing is that each of us makes contributions toward the fulfillment of our mission.
As I write this our family is preparing for the Thanksgiving holiday, so my thoughts drift to things for which I am grateful, and to those things for which so many of you tell me you are grateful. The resounding theme is for the wonderful acquaintances and friends we have made at CU. And for that I thank you!
A Year-End Note from Executive Director, Lillian Armstrong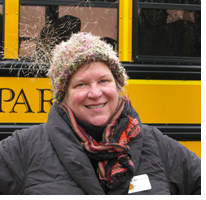 I am grateful for the opportunity to serve CU's Trustees and members. It has been another productive year, and I have many fond memories of CU events and accomplishments and people who bolstered my spirits during one of the most difficult times in my life, the loss of my father. Looking back, I was inspired by the opportunity to work so closely with Clay Sutton and Donna Vertolli on the 25-year report on the incredible work done by Clay and Jim Dowdell on our river. Clay's passion for the river and CU are readily apparent and he is a wonderful asset to the organization and a delightful project partner. And then there's the team of people who rally for the Chili Bowl and Auction, which is simply astonishing; so many talents all focused on the success of our largest fundraiser of the year. And the newfangled Wild About Cumberland! Days, Y Camp, walks and more were so much fun! I am also grateful for the opportunity to get to know the boat-building team and shorebird scientists much better this year. There is no way to thank you all enough for the many contributions of time and energy so many of you devote to CU. As Jane has said, it really is all about the people and the friendships we are building based on our mutual passions for the outdoors and our Wild and Scenic River. Thank you all for sharing in our aspirations.

Go Green and save us some green!
Thanks to those who recently opted to Go Green! If you are still getting the print version of this newsletter as well as receiving it via email, we encourage you to opt for the green only emailed edition – which includes lots of color photos and links! If you are not on our email list, please send your email address to Lillian Armstrong, and let us know if you would like to be removed from our USPS mailings. This applies only to newsletters; you will still receive certain special mailings and invitations via USPS.
Please think of CU Maurice River in your year-end giving, or give the gift of membership to a friend. Membership is set at $20 for individuals and $30 for families. Mail your check to PO Box 474, Millville, NJ 08332 or pay online.
And thanks to all those who give the equally important gift of your time. We couldn't do all this without you!
CU on the River!