Updates from Citizens United to Protect the Maurice River and Its Tributaries, Inc.
Meeting
November 8, 2006, 6:30 p.m.
Normal schedule, second Wednesday of odd-numbered months Millville Public Library, Gant Room
Presentation
by
Anthony Navoy
Assistant District Chief
United States Geological Survey
Mr. Navoy will present the findings of a recently completed study on the diminishing groundwater levels of the Maurice River.  This study was completed by the USGS in conjunction with the NJDEP and is hot off the press.
Headline News – CU brings home the gold. Yes, CU took home the EMMY for "Reflections of a Bayshore Painter – Glenn Rudderow," in the category of Arts/ Special Program.  This is a top honor to be sure.  Congratulations to us!
EVENTS
"Ah, Why Knot" Awards & Volunteer Recognition Dinner  – On October 21, 2006 at the Union Lake Sailing and Tennis Club we celebrated our 20 years of incorporation and 27 years of existence! Our CU members have cumulatively put in over 4000 hours of volunteer service this year. Our thanks to all of our terrific volunteers! There are nine awardees who made outstanding contributions over the past year.  They are Rob Dailey, Patricia Dufford, Dick Goldstine, Diane Jones, Tony Klock, Dave McCann, Bill Sheridan, Pat Witt, and Fred Akers.   Each received a shorebird decoy of the endangered red knot.  This
award is fitting testimonial for an organization whose members continually stand at a crossroads advocating a path of protection vs. destruction, for the red knots' fate teeters between recovery and extinction with a multitude of volunteers advocating for survival of the species. Based upon our members' continual response to a call to duty, we dubbed the award the "Ah, Why Knot Award."  In addition to the award, the honorees received a Congressional Certificate acknowledging their contributions.  We thank CU member Congressman LoBiondo for these certificates and Freeholder Jim Rocco for bringing them to the event along with good tidings from Washington. Each of our winners won in a category in which they dedicated numerous hours of passion to CU.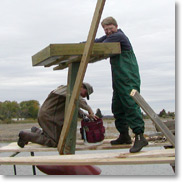 The President's Award was a special recognition offered to Fred Akers for his over-1000 hours of dedication as our Water Quality Manager on the 319H Parvin/ Tarkiln Project and his work on Wild and Scenic Rivers.  His continual efforts for adoption of regulations that would keep ORVs from destroying wild environs were also cited as meritorious.  Without Fred's advocacy efforts in Washington DC, many of CU's programs would not be possible!
Rob Dailey was acknowledged for his hours representing CU at festivals, and his work on the osprey project. Everything from engineering 3D osprey platform plans for our website, instructions for fabricating an osprey guard (along with son Ryan), building Bevin Skiffs, setting up AV equipment, carting displays, to cooking steaks – he's got it all, including cheerfully taking lots of teasing about the benefits of being one of our tallest volunteers, but to be honest his height is a prized commodity.
Patricia Dufford was cited for her dedication to arts and cultural affairs.  For eight years she has, as a labor of love, organized the Connie Jost Memorial Art Scholarship.  For many more years she has orchestrated the CU Paint a Landscape activity and has involved many other local artists in the activity.  And she has acted as a consultant on our NJN documentaries.
Dick Goldstine has for numerous years been an osprey colony volunteer supreme, continually bringing boats, tools, ideas, and trailers to projects, and all the while involving kids.  He was also recognized for the time he dedicates to the Millville Army Airfield Museum, St. John Bosco and his fantastic grandchildren.  When asked to say a few words he said he simply would prefer to let his tools do the talking; he is definitely a "tool talk" guy!
Diane Jones was given an "Ah, Why Knot" award for her contributions as a birding mentor.  Diane has spent countless hours in all weather helping others at festivals and CU events to appreciate her favorite passion – birds.  And now she embarks on being captain of our World Series of Birding team, "CU Birding Cumberland."  The team's membership boasts some exciting participants.  Stay tuned!  This activity with your help will raise funds for CU's activities.
Tony Klock took an "Ah, Why Knot" for his extraordinary gifts in fundraising and enthusiasm.  Tony sold 75% of the tickets to our first fundraiser.  He cooked "to die for" chili, co-auctioned our live auctions, chided, cajoled and has been all around delightful when sharing his enthusiasm for the organization and the great out-of-doors.   Tony is a super teacher and does birding interpretation for CU at festivals.  He also took the most amount of kidding of any of our recipients.  Our president says, "We all just wish to live vicariously though Tony."  Not only does Tony do wonderful work for CU, he is also a constant volunteer for our sister organization, the Bayshore Discovery Project.
Dave McCann, a newly treasured member, was recognized for his contributions to administrative strategies.  Acting as "coach" to our president, he is helping us to envision CU's future as we seek to perpetuate the works of the group.  Dave has an engineering degree, an MBA and owns a business strategy company.  He generously has given of his time and energy to strengthen the organization.  He also wrote and secured a grant for $9,000 to build the capacity of the organization.  Dave is active in Chambers of Commerce and in his church.
Bill Sheridan took the coveted red knot for his contributions in education.  This was for his continual mentoring in the community.  Be it teaching the building of Bevin Skiffs, sailing on the AJ Meerwald, or building playground equipment, Bill is a constant source of inspiration for all volunteers. Both he and member Gladis McGraw have done a stellar job of orchestrating the Bevin Skiff Project.  He and our membership have amassed over 200 hours on the Bevin project, not including Bill's and Gladis' time which is immeasurable. In reference to a t-shirt that Bill wears to student functions on which is written, "Our Pride Rocks!" CU's President remarks, "Yes, Bill, your pride does rock in both your students and the community- You rock!"
Pat Witt received an award for recruitment and enthusiasm.  Each of Pat's art classes is introduced to the treasured resource – the Maurice River.  She has recruited more members over our 27 years of existence than any other individual.  Pat is a constant advocate for wetlands protection. More than any other living individual she has built an appreciation for the aesthetic values of the Maurice River in those she meets.  Donna Pio accepted the award on Pat's behalf stating that Pat said she couldn't imagine receiving an award for a devotion of love. To Pat we each offer a nod of praise!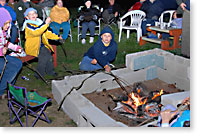 Maurice River Recollections Campfire – Join us on October 26th around the campfire at the Burcham Farm, featuring historical and cultural recollections of the Maurice River. Time: 6:30 p.m.- 9:30 p.m. We'll supply the marshmallows & weenies. Bring your chairs and guitar or other instruments! Representatives from some of the local historical societies will be in attendance to enhance the discussions. To volunteer or register for this event contact Renee Scagnelli @ 856-305-3238.
HAPPENINGS
The South Jersey Bayshore Coalition's grand opening was Thursday, October 12, 2006.  The mission of the coalition is to preserve the cultural heritage and environmental integrity of the South Jersey Bayshore.  Congressman LoBiondo was the keynote speaker for the event. Phil Corell of the National Park Service discussed the feasibility of declaring the Delaware Bayshores area a National Heritage Area. Kim Warker of the City of Millville and Noelle Reeves of Regional Planning Services presented a preliminary report of the Millville build-out study. Suzanne McCarthy of Delaware Valley Regional Planning Commission discussed open space plans, and Aaron Love of Rutgers' CRSSA (Center for Remote Sensor Spatial Analysis) presented his preliminary work on the GIS mapping layer of the Delaware Bayshore Inventory project. CU participated in the opening, and presented the visuals for the evening in the form of photographic slideshows and a PowerPoint presentation.
AND…
Prior to the Coalition's grand opening event, CU organized our biannual Conservation Summit with Congressman LoBiondo aboard the AJ Meerwald.  In past years NJ Fish and Wildlife has offered their oyster research vessel for this event.  This year we invited South Jersey Bayshore Coalition members to join past participants for a time to reflect on recent accomplishments and conservation happenings in the Bayshore Region.  It was spectacular weather and great networking.  Participant groups were: South Jersey Bayshore Coalition Member Organizations the American Littoral Society, ANJEC, Bayshore Discovery Project, Citizens United, Cohansey Area River Preservation, NJ Audubon Society, NJ Conservation Foundation, NJ Environmental Federation, Pinelands Preservation Alliance, Salem County Watershed Taskforce, and South Jersey Land & Water Trust.  Guest organizations included CRSSA, Great Egg Harbor Watershed Association, League of Conservation Voters, National Park Service, New Jersey Division of Fish and Wildlife, Shellfisheries and NJ Division of F&W Land Management. A special word of thanks to the Bayshore Discovery Project for making the A. J. Meerwald and her crew available for the sail.
Fundraising Seminar– Renee Scagnelli and CU member William Kontes attended a fundraising seminar sponsored by the Institute for Conservation Leadership on September 5th. A follow-up meeting with Jane Galetto and Dave McCann is planned.
Shieldalloy Press Conference– On September 28, Renee Scagnelli represented CU at a press conference held by Newfield mayor Rick Westergaard regarding Shieldalloy Metallurgical Corporation's decommissioning plan for the Newfield, New Jersey facility. A number of dignitaries attended, along with Lisa Jackson from the NJDEP, all rallying in support of Newfield's request that Shieldalloy remove the radioactive waste pile from the Newfield site.
Regional Planning Banquet for the 25th Anniversary of the Pinelands Comprehensive Management Plan – CU members Gerry Moore, Fred Akers, and Renee Scagnelli attended the Regional Planning Banquet celebrating the 25th Anniversary of the Pinelands Comprehensive Management Plan (CMP) on September 28th.  Congress declared the NJ Pinelands a national reserve in 1978. In February 1979, the Pinelands Commission was established and a preliminary Pinelands Protection Act went into effect in June of 1979. The final version of what is now the CMP was passed in 1981.
Down Jersey Workshop – On September 11, Christine Raabe presented CU's Down Jersey: Our Sense of Place curriculum to a group of Washington Township educators who are putting together a curriculum for their gifted students. It is their intent to incorporate portions of Down Jersey: Our Sense of Place into their new lesson plans. For more information about the Down Jersey curriculum, or to set up or attend a workshop, please contact Renee Scagnelli at (856) 305-3238.
Vineland Rotary Club – Rotarian and CU Member Dr. Bill Dudley made arrangements for CU President Jane Morton Galetto to present "Eggs to Flight" at their gathering in October.  Rotarians seemed most enthusiastic about CU's osprey recovery program.  Presently, CU member Mike Loyle is president of the Vineland Rotary Club.
ADVOCACY
Marking a significant victory for wild areas, the State Legislature passed a resolution in July that allows New Jersey voters to determine future funding for capital projects on state and local parks and natural areas. The resolution places a constitutional amendment on the November 7, 2006 ballot to create an ongoing, stable source of funding for capital repairs, improvements, construction and renovations at state and local natural areas. The amendment would reallocate a surplus of existing, already environmentally-dedicated funds from the Corporate Business Tax, in the amount of $15 million a year through 2015 and $32 million a year thereafter, to improving these areas across the state. It would require no new taxes.  It is critical that we send our local legislators the message that we care about our natural areas.  A negative vote will send a message that we have no problem neglecting our open space areas.
Investing in our parks is an investment in the future of our region as well as the greater State of NJ's natural heritage.  Citizens United to Protect the Maurice River and Its Tributaries, Inc. and other members of the Out Door Recreation Alliance urge you to remember this at the polls in November and PLEASE VOTE YES ON QUESTION #2 THIS NOVEMBER!
For additional information visit: www.outdoorrecreationalliance.org.
Memories of John Barbose
A Message from CU President, Jane Morton Galetto
With the chill of fall upon us, we have once again lost a dear friend of the River.  To so many people in our area John Barbose was simply known as Coach Barbose, having amassed a lifetime of achievements in athletic contributions.  But for me he was a man who with his wife Mary Lou Barbose had acquired a lifetime of recollections on the shores of the Maurice River. He was concerned about the changing face of our area and wanted to know specifics about development projects when we spoke.  He was especially concerned that too many large housing developments were being proposed for our region.
John was an ardent steward of the osprey nests that are visible from the Barbose property in Port Elizabeth.  When I would call Mary Lou for her membership updates John would often answer the phone and inquire about the whereabouts of the osprey, their health, their migration, how many chicks were in the nests and so much more.  When John's eyesight took a turn for the worse he would ask Mary Lou and me the status of the osprey nest across the river, and Mary Lou would say, "They're there, John," and his face would show great pleasure.  Then I would have to give the full update.
He and Mary Lou shared a love of animals and took great pleasure in their dog Ginger.  About six months before John left us Ginger passed away.  Mary Lou told me he was heartbroken.  I like to imagine that John and Ginger are sitting watching the River from some comfy spot in the hereafter and content with Mary Lou's newest soul mate, a golden retriever named Marla.  John, we shall miss you and Ginger too!
CU on the River!
By popular request, Donna Vertolli's Bean Dip Recipe!
Salad ingredients:
Combine:
1 can black beans
1 can black-eyed peas (drained, plain – no seasoning)
1 can white shoepeg corn
1 diced green pepper
Diced red onion to taste (about half of a medium size)
1 jar diced pimento
Avocado to taste, diced (two is good)
Dressing ingredients:
Whisk together:
4 Tbls Tiger Sauce
1/4 cup oil (1/8 grapeseed, 1/8 extra virgin olive oil)
1/4 cup red wine vinegar
1/4 cup sugar
Salt and pepper to taste
Mix all ingredients. Refrigerate until ready to serve. Can be made a day in advance. Serve with Tostitos "Scoops" corn chips. Makes a lot!